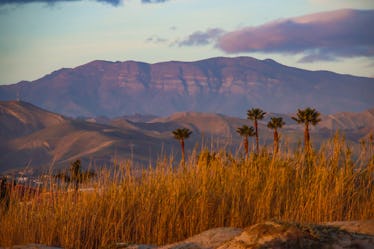 8 Things To Do In Ojai For The Ultimate California Getaway
This wellness escape is just an hour from LA.
Patricia Marroquin/Moment/Getty Images
If you're looking for a nature escape, picturesque Ojai, California — which is located in the beautiful landscapes between the Topatopa Mountains — is an ideal getaway. The smallest city in Ventura County, Ojai is home to just 8,000 residents and a relaxed, eco-conscious culture of arts and history. It's just an hour drive from Los Angeles too, so it's ideal if you need an escape from the city. Once you get there, there are plenty of fun things to do in Ojai, from meditation retreats, hikes with a spectacular view, and even a one-of-a-kind sunset, to make the most of your vacation.
Ojai is nustled into the mountains and it got its name from the Chumash Indian word "awhait," meaning the "moon." Rightly so, as it's a city that glows pink (literally!) and offers plenty of outdoor activities for soaking up the daylight.
Foodies will want to check out the Ojai restaurant scene, which serves a variety of vegetarian-focused food made with local produce, and the olive oil farms are a must-see. However, Ojai is most known for its wellness retreats and its laid-back lifestyle with a focus on local shops — the city even banned chain stores. It's a great place to relax and disconnect, and you'll want to check out these eight fun things to do in Ojai the next time you're in the California getaway.