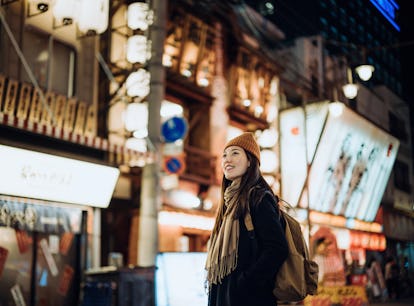 14 Things To Do In Japan From TikTok That Are Off The Beaten Path
From visiting a Shiba Inu cafe to ordering 3D lattes.
d3sign/Moment/Getty Images
Japan recently opened its borders for tourists without a visa, which means if you've had a trip to Tokyo, Kyoto, or just Japan in general on your bucket list, now is the time to start planning. Between the Insta-worthy cafes and character-filled theme parks, you may already have a few places on your to-do list but getting a rundown of the best things to do in Japan from TikTok can help as well. TikTok is not only a great resource for cooking hacks and funny memes, but travel inspo for ideas that will take you off the beaten path.
Through your TikTok search, you can even find things to do in Japan based on your specific interests. For example, Disney adults will obviously have Tokyo Disneyland on their list, but did you know there's also a Sanrio theme park with Hello Kitty food and rides? Japan also has a dreamy Studio Ghibli museum for fans of Spirited Away and My Neighbor Totoro. If you're more of a foodie, you can find restaurant suggestions on the FYP for your trip or get inspiration on what to buy at a Japanese convenience store. Now that travel to Japan has become a lot easier to do, this is your sign to finally book the flights and plan out the best vacation ever with your pseudo tour guide, TikTok.