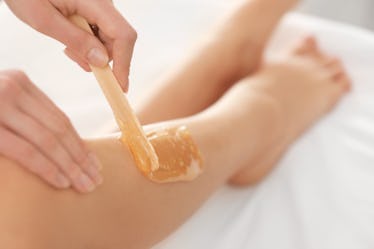 The 5 Best Waxes For Sensitive Skin
We only recommend products we love and that we think you will, too. We may receive a portion of sales from products purchased from this article, which was written by our Commerce team.
Africa Studio / Shutterstock
The combination of heat and hair removal is often a recipe for irritation — especially if you're prone to redness, bumps, and rashes. But the best waxes for sensitive skin can help make hair removal a more comfortable experience. However, there are a few criteria to consider in order to find the right wax for you.
First, check the ingredient lists to make sure the wax doesn't contain any personal allergens. Heat causes your skin to become more permeable, so when waxing, you want to avoid any and all substances that may cause irritation. On the flip side of things, some waxes for sensitive skin contain ingredients that lessen inflammation and calm redness, such as honey or avocado oil.
Those with sensitive skin often find that hard wax beads are their best bet. Once the beads are melted, you can apply them directly to your skin, where they cool into a thick strip that's especially effective at removing most hairs the first time you use them. (You'll want to avoid consecutive waxes over the same area during a single session, though, especially if it's a sensitive one.)
That said, wax beads usually require temperatures between 125 and 160 degrees Fahrenheit before they'll melt, so if you're sensitive to heat, you may want to opt for a lower-temperature solution. These include creams or strips that melt more easily. They're usually a bit messier, but as long as they're heated correctly, you won't have to worry about burns. Unless the directions specifically outline the use of a microwave or conventional oven, always use an at-home wax warmer to ensure safe temperatures.
In a hurry? Here are the best waxes for sensitive skin:
1. The Best Facial Wax: KoluaWax Bare Faced Hard Wax Beads
2. The Best Coarse Hair: KoluaWax Bikini Babe Coarse Hair Wax
3. The Best For Low-Heat Application: GiGi Crème Wax
4. The Best Wax Strips: Nad's Facial Wax Strips
5. The Best Full Waxing Kit: bliss Poetic Waxing Hair Removal Kit
Plus, A Post-Wax Cooling Gel: Shaveworks The Cool Fix
No matter the area or the hair type, these are the five best waxes for sensitive skin.
This article was originally published on