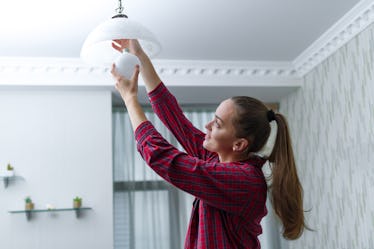 The 4 Best Light Bulbs For Bedrooms
We only recommend products we love and that we think you will, too. We may receive a portion of sales from products purchased from this article, which was written by our Commerce team.
goffkein.pro / Shutterstock
Light bulbs come in a wide range of styles, wattages, brightness levels, and color temperatures — but no matter the type, the best light bulbs for bedrooms should be warm and gentle on the eyes.
Types Of Light Bulbs
Gone are the days of energy-guzzling incandescent bulbs. Instead, the best bulbs for your bedroom will either be energy-efficient LED or halogen incandescent light bulbs.
Light emitting diodes, or LEDs, are the longest lasting, most durable energy-efficient bulb. They are a fantastic go-to bulb for any setting. If you want to control your light bulb from across the room, consider investing in a smart LED bulb that can connect to your mobile device or voice-activated home assistant. Also, if your bedside reading lamp has one knob or pull string to adjust the lighting to different brightness levels, that means it operates with a three-way switch, and you should get a compatible three-way LED light bulb to ensure that the lamp functions correctly.
Halogen incandescent bulbs are similar to traditional incandescent bulbs, except that they incorporate gas in the bulb to slightly increase their energy efficiency. Halogen bulbs tend to be cheaper than both LEDs, but they're not as energy efficient and won't last as long. They can be a good option if you're temporarily on a very strict budget and need to save a few bucks, but, if you live in California, you won't be able to purchase halogen bulbs due to energy efficiency regulations.
Brightness
As light bulbs have become energy efficient, the number of watts they use has gone down, which means a bulb's wattage is no longer an accurate measurement of its brightness. A light bulb's brightness is best measured in lumens, though most manufacturers include "watt equivalents" as well. For a bedroom, look for a light bulb that has a lumen rating of around 800, which is roughly equivalent to a 60-watt traditional incandescent bulb, or lower. At this brightness level, you'll have enough light to read by, but it won't make you feel more alert when you're winding down at bedtime.
Color Temperature
Light bulbs come in a range of color temperatures ranging from 2,000 to 6,500 Kelvin. The higher the number, the cooler (aka bluer) the color temperature. For a bedroom, I'd recommend a "soft white" bulb, with a color temperature of 2,700 to 3,000 Kelvin. A soft white bulb will offer a good enough amount of light to see by, but a warmth that's gentle on the eyes and less likely to disrupt your sleep.
Shop The Best Light Bulbs For Bedrooms
In a hurry? Here are the top picks for the best light bulbs for bedrooms:
From super energy-efficient LEDs to a basic halogen bulb, here are the best light bulbs for bedrooms — all available on Amazon.
This article was originally published on