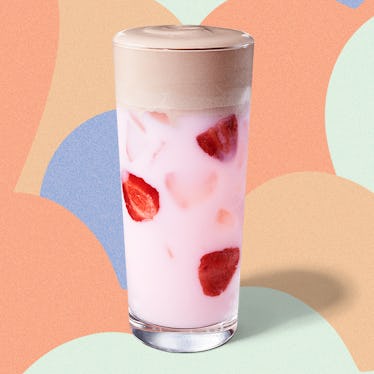 Starbucks' V-Day Deals Include A Pink Drink & 50% Off Uber Eats
Feb. 14 just got a lot sweeter.
Courtesy of Starbucks
Nothing screams "Valentine's Day" more than the color pink and a box of chocolates, and now there's an easy way to incorporate both into your Starbucks order. In honor of the lovey-dovey holiday, the coffee giant is bringing a Pink Drink with Chocolate Cream Cold Foam in-stores and to the app for an IG-worthy treat. The brand is also offering 50% off Uber Eats orders on Feb. 14, which means you and your Valentine can score the sip for a totally sweet discount. Move over, lavender haze drink.
IYDK, the Pink Drink is a Refresher option that's typically made with a strawberry açaí base, coconut milk, and freeze-dried strawberries. But from Feb. 6 through Feb. 14, fans of the pinkalicious iced bev can order the sip with a helping of Chocolate Cream Cold Foam — no app-hacking or secret menu sleuthing required. The end result is an adorable light pink drink with pops of bright red strawberry pieces and a creamy layer of Chocolate Cream Cold Foam on top. Name a more aesthetically-pleasing drink, I'll wait.
The Pink Drink with Chocolate Cream Cold Foam is so simple to order, and with an Uber Eats discount code for 50% off your Starbucks order, you have the perfect excuse to cancel those fancy dinner reservations and spend the night relaxing at home instead. Here's what you need to know about how to snag Starbucks' V-Day goodies for sweet sips and even sweeter deals. Prices for the drink will vary by location.
How To Get Starbucks' Pink Drink With Chocolate Cream Cold Foam
To order the Pink Drink with Chocolate Cream Cold Foam in-stores, all you have to do is ask your barista for the Refresher by name. Yup, that's it, y'all — there's nothing more to it.
Ordering a customized sip through the app, on the other hand, can get kind of tricky, but luckily you won't have to worry about making any adjustments on your end because from Feb. 6 through Feb. 14, you can also order the sip via the app by tapping the "Order now" button under the "Pink With A Wink" option on the Starbucks app homepage. From there, the drink will be added to your bag, and you can place your order by tapping the "Checkout" button in the bottom right corner once you've selected a store.
It might be a Valentine's Day-themed treat, but you'll still be able to order the drink long after the easy order option is gone. To hack the app for a Pink Drink with Chocolate Cream Cold Foam, here's what you'll need to do:
Navigate to the Menu section in the Order tab.
Select "Cold Drinks."
Scroll through the selection of Refreshers and choose the Pink Drink.
Tap the Customize button.
Tap the Cold Foam drop down menu under Toppings and select Chocolate Cream Cold Foam.
Tap the Add To Order button.
Starbucks' Valentine's Day Uber Eats Deal
On Feb. 14, you can take 50% off your Uber Eats Starbucks order up to $10 off by using the code "VDAY50OFF" at checkout. FYI, the offer only applies to orders placed on the Uber Eats app, and will not be redeemable in-person or via the Starbucks app. To find a location that delivers with Uber Eats near you, make sure to visit the delivery locator on the Uber Eats website.