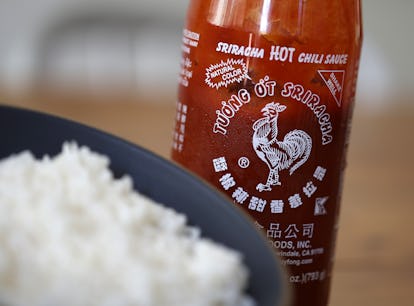 10 Condiments Like Sriracha To Get You Through The Depressing AF Hot Sauce Shortage
Catch me whipping up gourmet condiments all summer long.
Justin Sullivan/Getty Images News/Getty Images
After Huy Fong Foods, the company that produces Sriracha, announced that a chili pepper shortage could get in the way of the company's hot sauce production, fans of the condiment are bracing for the worst. But despite the impending sauce shortage, summer 2022 doesn't have to be completely Sriracha-less. Keep the season spicy with these nine Sriracha substitutes and recipes that also bring the heat.
If you haven't been keeping up with the latest Sriracha drama, here's what you need to know. On April 19, Huy Fong Foods disclosed the details of the shortage in a letter, sharing that because weather conditions have been affecting the quality of chili peppers, the company is facing a chili pepper shortage and therefore will be unable to fulfill orders placed after April 19, 2022 until after Labor Day, which falls on Sept. 6. TL;DR: the sauce won't ship until the end of the summer. The letter goes on to say that the shortage will affect production of all its products, including Sambal Oelek, Chili Garlic, and of course, Sriracha Chili Hot Sauce.
Sriracha is thought to have been created in Sri Racha, Thailand by a woman named Thanom Chakkapak, according to The Los Angeles Times. In Thailand, Sriracha is commonly used as a dipping sauce for omelettes, seafood dishes, and pad Thai, and it's a popular condiment for foodies everywhere looking to spice up their takeout or at-home dishes – so a shortage could mean trouble.
As hot sauce enthusiasts bracing for a less-than-hot summer, there are plenty of Sriracha substitutes and easy-to-make recipes that are sure to fill the Sriracha-sized hole in your heart until the sauce is back on shelves later this year. Fair warning, some of these hot additions span different cuisines, so keep that in mind as you decide what to use them with.
We at Elite Daily only include products that have been independently selected by our editors. We may receive a portion of sales if you purchase a product through a link in this article.
Thanks to these Sriracha alternatives and recipes, summer 2022 won't just be hot — it'll be spicy, too.