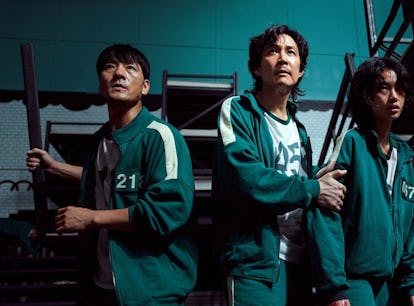 30 Squid Game Quotes For Instagram Captions That Aren't Child's Play
Begin the next game on the 'Gram.
Squid Game is the K-thriller of our nightmares that everyone can't can't seem to stop watching. The premise is bone-chilling while the plot is edge-of-your-seat thrilling. Plus, the interactions between the characters include so many memorable Squid Game quotes for your Instagram caption.
While the games themselves put the characters into life or death situations, it also forces them to bond super quickly, which puts them in the position to deliver some truly memorable Squid Game quotes. For example, the scene where Mi-nyeo is is trying to talk Deok-su into letting her join up with him gives us one of the show's best lines: "I'm good at everything, except the things I can't do."
Luckily, there are tons of Squid Game lines that pack a punch, just like that one. Short, sweet, and snappy, they'd also make great Squid Game captions for social media posts that your fellow diehard fans will instantly recognize. Plus, it's always fun to post some of the more obscure lines from one of your favorite shows or movies, and see who in your feed will catch on. You know the ones that do are Squid Game super fans like you, creating an instant bond.
Whether you're showing off your Squid Game knowledge or you're looking to connect with fellow fans, these Squid Game quotes make captions that'll bring plenty of likes on the 'Gram.
"I'm good at everything, except the things I can't do." — Mi-nyeo
"Life is like a game. There are many players. If you don't play with them, they'll play with you." — Il-Nam
"At that moment, I felt as if I owned the entire world." — Gi-hun
"I just wanted to return the favor." — Ali
"One more round." — Gi-hun
"Stick with the strongest team. That's the only way." — Deok-su
"You don't trust people because they are trustworthy. You do it because you have nothing else to rely on." — Sae-byeok
"I'll make sure we win." — Ji-yeong
"Doing something is always more fun than just watching." — Il-nam
"Everyone is equal while they play this game." — The Front Man
"Begin the next game." — The Front Man
"Good rain knows the best time to fall." — VIP
"That's right. You die." — Gi-hun
"Do you know what people with no money have in common with people with too much money? Living is no fun for them." — Il-nam
"I'm not a genius, but I still got it where it counts." — Mi-nyeo
"Hey, old man. Want to do this together?" — Gi-hun
"Dad, you're free to get in fights. Just don't get beaten up." — Gi-hun's daughter
"Would you like to play a game with me? — The Front Man
"A player is not allowed to stop playing." — The Front Man
"Out there, I don't stand a chance. I do in here." — Player 322
"There's this saying in investing, 'Try not to keep your eggs in the same basket.'" – Sang-woo
"When faced with danger, take refuge with the herd." — VIP
"It doesn't matter how tough you are, you are not going to win on your own." — Deok-Su
"I want to get one last chance to claim ownership of my life." — Random player
"Can you still trust anybody to be good?" — Il-nam
"What could we all do to finally have some fun?" — Il-nam
"Look at that. There's someone who cares." Gi-hun
"This is Hell. What are the rules in Hell?" — Deok-su
"We've already come to far to end this now." — Sang-woo
"How much is the truth? And how much is a lie?" — Gi-hun