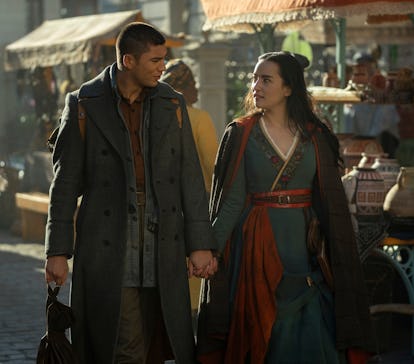 Netflix's Shadow And Bone Was Filmed In A Popular Fantasy Location
You just need a passport and plane ticket to visit Ravka.
Dávid Lukács/Netflix
It's been almost two years since Season 1 of Shadow and Bone premiered on Netflix in 2021. Just like you were patiently waiting for Alina and Mal to reunite, the time has come to return to the Grishaverse with Season 2 dropping on March 16. Ravka may be a fictional place, but you might be wondering whether Shadow and Bone Season 2 filming locations are places you can visit IRL.
Season 1 of Shadow and Bone found its home in Hungary, according to IMDb, and What's On Netflix reported that they liked it so much that production returned for Season 2 of Shadow and Bone back in January 2022. Hungary is actually a popular filming locations for many fantasy and adventure series, like Moon Knight and The Witcher. With its castles and historic architecture, it's no wonder Netflix chose Hungary as its backdrop to bring to life the world of Shadow and Bone. While they filmed a good chunk of the show at Origo Studios in Budapest, IRL locations like Festetics Castle in Keszthely were used for settings like the Little Palace of Ravka's Second Army.
These places are some set-jetting locations you might want to visit on your next trip to Europe, especially if you're a fan of Shadow and Bone. To help you navigate Ravka, here's a map of all the Shadow and Bone filming locations you can visit.
1
Buda Castle
Budapest, Szent György Utca 2, 1013, Hungary
Visit the website
While in Budapest, you must stop by Buda Castle. The historical and massive palace is not only a great tourist spot, but it was also used for many Shadow and Bone scenes. You may recognize places in Buda Castle like Lion's Court and Hungarian National Gallery from Season 1, and you can easily visit them by booking a tour of the castle or purchasing tickets to the museum.