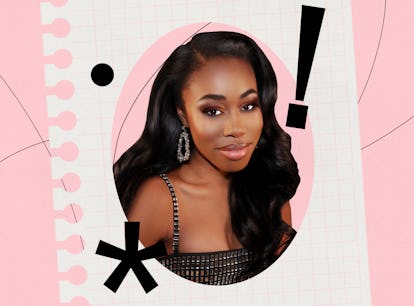 Meet The College Senior Who's A Mentor, Drill Sergeant, & Beauty Queen
It's safe to say Sgt. Renieal Campbell is booked and busy.
In Elite Daily's series Big Name On Campus, thought-leading and accomplished college students share their passion projects, how they get it all done, and what's next after graduation. Below, Sgt. Renieal Campbell tells Elite Daily about what led her to Temple University, the U.S. Army, and pageantry.
What do an ice cream shop, a beauty queen, and an Army sergeant have in common? Well, seemingly nothing. That is, unless you know 22-year-old Sgt. Renieal Campbell. Campbell is a soon-to-be college graduate (she'll be graduating from Temple University with a degree in health studies this May), she was crowned Miss Pennsylvania Earth USA in 2022, and she's a drill sergeant in the reserves of the U.S. Army. If you got tired just reading that, it's time to perk up because there's still so much more Campbell, who is a first-generation American — both her parents were born in Guyana — wants to accomplish in the next few years.
Below, Campbell shares misconceptions about military life, how she balances her hectic schedule, and a little more about the people who have inspired her along the way.
This interview has been edited and condensed for clarity.
Elite Daily: You're studying at Temple University. Tell me about what led you there.
Sgt. Renieal Campbell: When I was a junior in high school in East Orange, New Jersey, I saw a lot of the seniors applying to Temple University. After I got out of AIT [advanced individual training in the Army], I was deciding if I wanted to go to West Point or Temple University. I was looking at vlogs on YouTube, and in one of them, specifically, my friend Naomi talked about how much she liked Temple University and how diverse it was. So I applied and got in, and it wasn't too far from home. It seemed like the perfect fit.
ED: Do you have a favorite part of college life? A favorite place to go??
RC: I have to say the food. I'm a big foodie, and Philadelphia is kind of like another New York. New Yorkers will probably destroy me in a second for saying that, but it's like another New York; there are a lot of different melting pots. If you want to get good barrio tacos, go to La Mula Terca. If you want a good Philly cheesesteak, I'd say Pat's is the best.
ED: On top of being a college student, you're also a U.S. Army drill sergeant. What inspired your service?
RC: I don't have a big military family, but my Uncle Fitz was in the Army. He served for 25 years. He's a retired sergeant first class. My childhood friends' dad was also in the military. He was one of the recruiters for the recruiting station in East Orange, New Jersey, where I grew up.
My friend's dad always motivated me and told me there's more that you can do in the Army than just be a soldier. When I had the dilemma during my senior year of high school of wanting to go to a college but not being able to afford it, I went to him for advice on what to do.
ED: What do your duties look like as a drill sergeant?
RC: Since I'm a reserve drill sergeant, I'm not always working full time. But when I am, I'm basically like an active duty drill sergeant, working with trainees all day. We're almost like their parents, so we're with them from breakfast to dinner, training them on different things throughout the day. It could be marksmanship, learning how to use their weapon. It could be fitness training, physical readiness training, helping them learn how to do the Army PRT [Preparation and Recovery] modules. It could also be learning about Army regulations. They have different classes where they learn about the Army's policies and how to be a soldier.
I think just being able to wake up and acknowledge that you're doing a good job every day is success.
ED: You've been in the Army for nearly six years. What has it taught you about yourself?
RC: The Army has definitely taught me how to be a sponge. And I know that sounds crazy, but I'm able to absorb all these different skill sets that I get on a daily basis, and I feel like it makes me a better soldier. It also makes me a better civilian. I'm able to do things and see the world through a different lens. It's also made me a very resilient person. Even when I'm having issues at home or having a rough time at school and I think I can't get through things, I just look back on the different experiences I've had.
ED: What's one experience that sticks out?
RC: Last year I went to Air Assault School, which is one of the hardest schools in the Army to graduate from. It's 12 days of absolute hell. So many people go to that school every year and don't graduate just because of how hard the training, the curriculum, and the physical component is. It's all mental capacity. It's how much can you take before you can break. I woke up at 1 a.m. to do the 12-mile ruck march — literally carrying 45 pounds on your back for 12 miles.
I still think back to looking at the sunrise that morning and thinking, "I've got to get through these last 9 miles. I've got to get through these last 6 miles, these last 3 miles, this 1 last mile," and I finally made it to the finish line. That level of resiliency you have to get through something like that — I know that if I face anything else in my life, I know I can get through it.
ED: What's one of the biggest misconceptions about military life?
RC: That there's only one thing you can do and it's combat, which is absolutely not true. In the Army specifically, there's everything. There are so many different career paths that you can take. You could be a medical doctor, a dentist, a pilot, an engineer, or a drill sergeant like myself.
ED: To top it off, you're also a beauty queen! How did you start competing in pageants?
RC: Back in 2020, I met Deshauna Barber at the National Student Veterans of America Conference in Los Angeles. Deshauna Barber is Miss USA 2016, the first actively serving soldier to win that pageant title.
After her keynote speech, I went backstage and I told her, "I've been rejected by so many different modeling agencies, but pageantry is something I'm very interested in. I think I'd be good at it, but I don't know if I should do it." And she essentially told me, "You've just got to go for it."
In 2021, I applied for Miss New Jersey USA. There were 120 competitors that year, and I placed within the top 15 as a semi-finalist. I didn't think that'd be possible for my first pageant ever. It was surreal, and it gave me the boost of confidence that I didn't know that I needed.
ED: Do you have any confidence tricks or mantras for when you take the stage?
RC: This is something I actually do with my mentees, my girls [at the Gwynedd Mercy Academy]. I tell them to do the superwoman pose. You straddle your legs about shoulder width apart and make a fist with both of your hands. You put your hands on your hips, point your chest out toward the sky, and look up. Breathe in and out, then say "I can do this. I'm not afraid. I can do this. I'm not afraid."
After you say that to yourself about 10 times, you shout "I'm not afraid! I'm excited!" It convinces your mind that you're actually pumped up about what's about to happen, not nervous.
ED: How do you manage all of this and stay on track?
RC: The biggest thing is just keeping my calendar organized. I keep one calendar and I make sure that if there are any major changes, I update it immediately. I speak to my professors three weeks ahead of time, and I tell them, "Hey, I have this going on. It's a big opportunity. If I need to get anything done, I'll get it done two weeks ahead of time."
I'm very cool with all of my professors. They've always been very supportive. And that's one reason why I really like Temple University because the professors are awesome. They understand that you have a separate life outside of college and that there are opportunities that you just have to take, and you can't let schoolwork get in the way of that. Obviously, I'm still going to get my schoolwork done because I want to get good grades, but I've got to take those opportunities also.
ED: What does success look like to you?
RC: I think just being able to wake up and acknowledge that you're doing a good job every day is success. I'm not where I want to be in life right now per se, just because I have so many things that I want to achieve, but I have to acknowledge everything that I'm doing right now. I'm mentoring young girls. I'm helping the Philadelphia community stay sustainable just through my title of Miss Pennsylvania, and I'm getting to spread messages about positivity and soldier empowerment through the Army. Everything that I'm doing right now I'd say is, in my terms, success. I know a lot of people wouldn't see it that way, but I think it is.
ED: What's next for you after graduation?
RC: I've written so many different business plans over the last four years, but there's one I'm very excited about because I know it's possible. I want to open up my own ice cream shop called Rennie's Rolled Ice Cream, and I found a location. I've already got the 30-page business plan done, and it's hopefully opening this summer.
The second thing is graduating this May and starting graduate school in the fall here at Temple University. I'm just praying I get this acceptance letter very soon. If I get into the graduate program, that means I can start the two-year ROTC program here at Temple. And in two years, I would commission as an officer in the United States Army. Next year, I am definitely coming for the Miss Delaware USA title — I purchased a house in Delaware so I can run there. I really want to be Miss USA one day, just like Deshauna Barber.