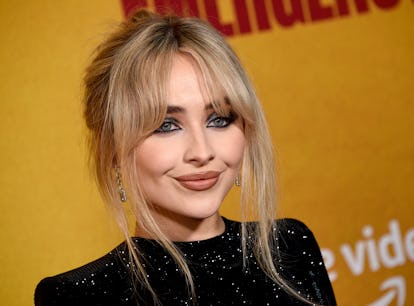 25 Sabrina Carpenter Lyrics For Instagram Captions And Complicated Relationships
Unlike the Emails I Can't Send, you'll want to share these.
Gregg DeGuire/FilmMagic/Getty Images
Sabrina Carpenter isn't holding back in her fifth studio album, Emails I Can't Send. The 13-song album is full of the raw emotions of someone dealing with heartbreak, and many fans have wondered what songs on Emails I Can't Send address the Joshua Bassett and Olivia Rodrigo drama that we all witnessed back in 2021. While some songs may be about the High School Musical: The Musical: The Series stars, all the songs are universally relatable. In fact, you could use Sabrina Carpenter lyrics for Instagram captions on your own selfies.
If you've ever been in a relationship that's gone sour, you can definitely relate to songs like "Vicious" and "Already Over." If you're in your own "Drivers License"-like situation, you might even find yourself saying "same" while listening to "Because I Liked A Boy." However, someone in a happy relationship could also use Sabrina Carpenter lyrics in "Bad for Business" for a cute pic of them and their partner together.
Sometimes, you just want to recognize your favorite bop from the album and you don't want to hint at a relationship at all. For that, there are plenty of lyrics from Emails I Can't Send that would make great Instagram captions. So, whether it's a selfie or a photo dump of your "Fast Times" night out, here are 25 Sabrina Carpenter lyrics for Instagram captions you'll want to send out into the universe.
"It's times like these, wish I had a time machine." — "Emails I Can't Send"
"There's no us in us when I'm lacking trust." — "Emails I Can't Send"
"I get nice guys and villainize them." — "Emails I Can't Send"
"Why you gotta be so vicious?" — "Vicious"
"'Cause you don't think you hurt me if you wish me the best." — "Vicious"
"Wasting all our time to think that we could be casual." — "Read Your Mind"
"I guess maybe that's why I'm lying to my therapist." — "Tornado Warnings"
"I deserve my own consideration." — "Tornado Warnings"
"Who knew cuddling on trampolines could be so reckless." — "Because I Liked A Boy"
"It's not internet illusions, just two kids going through it." — "Because I Liked A Boy"
"You said I'm too late to be your first love, but I'll always be your favorite." — "Because I Liked A Boy"
"Dating boys with exes. No, I wouldn't recommend it." — "Because I Liked A Boy"
"I'm a hot topic on your tongue." — "Because I Liked A Boy"
"Tell me who I am, guess I don't have a choice. All because I liked a boy." — "Because I Liked A Boy"
"Same time here next weekend." — "Already Over"
"I wonder how many things you think about before you get to me." — "How Many Things"
"Bet you wanna love me now." — "Bet U Wanna"
"But I can't help myself when you get close to me." — "Nonsense"
"Ahead of myself's an understatement." — "Fast Times"
"These are fast times and fast nights." — "Fast Times"
"It'll be a Wednesday and I'll be going to this coffee shop." — "Skinny Dipping"
"He's good for my heart but he's bad for business." — "Bad For Business"
"We look good in photographs." — "Bad For Business"
"You're good at the falling, not the staying there." — "Decode"
"There's nothing left here to decode." — "Decode"