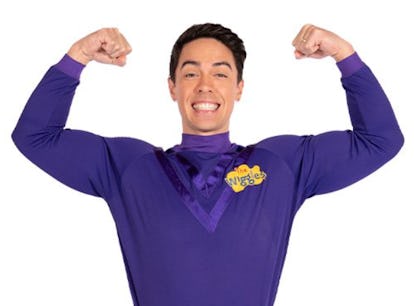 These Purple Wiggle Memes About John Adamo Pearce Couldn't Be Thirstier
I found my new favorite color.
You probably haven't checked in with The Wiggles since your last babysitting gig, but now might be a good time to brush up on your "Fruit Salad" lyrics. John Adamo Pearce, aka the new Purple Wiggle, began taking over the TikTok FYP in in late 2022 and hit a fever pitch in January 2023, and people can't help but notice the entertainer is bringing a certain je ne sais quoi to the group. (It's hotness. He's bringing hotness.) If you've been crushing on the member of the children's band, you're not alone, because these 14 Purple Wiggle memes thirsting over John Adamo Pearce will make you blush.
Most people's Wiggles phase peaks very early in life, so it makes sense that no one over the age of 5 had "becoming a Wiggles stan" on their 2023 bingo card. You probably don't think of the members of The Wiggles, which debuted in the United States in 2002, as being heartthrobs — but that's just because John Adamo Pearce didn't join the squad as a supporting member until 2021. His "About Me" on The Wiggles' website says he likes to spend his time "getting strong and working out," which, if you've seen him showing off his tattooed arms on TikTok, is probably the least shocking thing about all of this.
Prior to joining the legendary children's band, Pearce was (and still is) a member of the Australian dance and music group called Justice Crew, so he's no stranger to the spotlight. Pearce seems to have a sense of humor about the career shift, and even posted an IG Reel on Jan. 18 poking fun at "Justice Crew John vs. Wiggle John." (The entertainer also has an IG account dedicated to his Purple Wiggle duties to keep things ~professional~.)
Despite holding the title of Purple Wiggle for nearly two years, Twitter and TikTok are just now catching up.
And because people on Twitter don't know how to act, the memes that've come out of this have been equal parts raunchy and hilarious.
If you didn't have the same reaction, you're lying:
Points were made:
They should just give the Purple Wiggle his own show, TBH:
Who could've guessed crushing on a Wiggle would be "in" for 2023?
I'm not mad about it, though.
'Nuff said.
If you see me Googling "Wiggles tour 2023" no you didn't.
Retweet to save a life:
Sadly (for everyone thirsting), Pearce appears to be happily married to his wife, Jessie. They tied the knot in October 2019, and they're v. cute on his IG. In some good news, though, Pearce has a twin brother, Lenny, but he also appears to be happily coupled up.
Married or not, people appreciate a hot Wiggle:
Please, Purple Wiggle, serenade me with your sweet song:
Raise your hand if you're willing to take one for the team:
We all become our mothers eventually:
They didn't make Wiggles like John Adamo Pearce when I was a kid, but hey — better late than never.