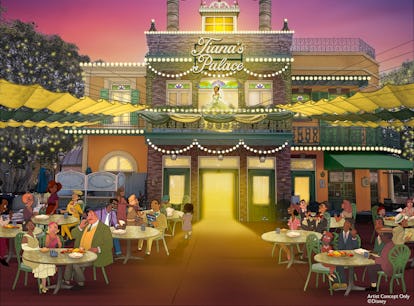 A Princess And The Frog Restaurant Is Coming To Disneyland This Year
All the Mickey-shaped beignets.
Courtesy of Disney
Disney recently announced its all-new Princess and the Frog attraction, Tiana's Bayou Adventure, which will make its debut at both Walt Disney World and Disneyland in 2024, and now it sounds like a similarly themed dining experience is also in the works. At Disney's D23 Expo in September, eagle-eyed fans noticed the Disney Parks pavilion featured signage that hinted at a Tiana's Palace restaurant, but they didn't share any additional detals during Parks panel. Now, Disney has officially announced that the Princess and the Frog restaurant is coming to Disneyland — and it'll be open so soon.
ICYMI, the Tiana's Bayou Adventure attraction will be a re-theming of the classic Splash Mountain ride, taking guests on an all-new adventure through the New Orleans bayou. The ride's story will take place after what happened in the movie, and you'll encounter some of your favorite characters along the way, like Tiana and Louis the jazz-loving alligator. Since Splash Mountain is already right next to New Orleans Square in Disneyland, the Princess and the Frog ride will fit in perfectly with the rest of the land. However, you can't have a Princess and the Frog ride without also including Tiana's restaurant from the film as well. In fact, if you would have asked Disney fans what they thought would make an excellent addition to the parks from the movie, they'd probably say Tiana's Palace before they ever said a water ride.
Now that Tiana's Palace has officially been announced for Disneyland in Anaheim, California, here's everything we know about the upcoming restaurant.
What Is The Princess And The Frog Restaurant?
Tiana's Palace is the restaurant that Tiana dreams of opening in Princess and the Frog, which features dishes like gumbo and beignets on the menu. Those dreams become a reality at the end of the film, and now, they're a reality IRL as well. On Jan. 12, Disney announced their plans to reimagine the French Market Restaurant into Tiana's Palace. The new restaurant will be designed in collaboration with both Disney Animation artists and Disney Imagineers, so it really brings to life the restaurant you see on the screen.
You won't even need a reservation to visit it: The Princess and the Frog restaurant will be a quick-service style restaurant, which is perfect if you're someone who likes to hit every attraction you can while at Disneyland. Since most quick-service restaurants at Disney offer mobile ordering, it's possible Tiana's Palace will as well, although there's no mention of this at this time. The menu at Tiana's Palace will be inspired by New Orleans with nods to "Tiana's friends and adventures." However, this will not be a character dining location, so you can't take a picture with Tiana or Louis while you're eating.
Fans of the beignets at the French Market Restaurant have no need to worry, as Disney said they "will expand on many of the current favorites served in the location." They will also offer some seasonal flavors as well as New Orleans classics. However, the French Market Restaurant and Mint Julep Bar will be closing on Feb. 17 for construction, so here's hoping Disney will be offering Mickey Mouse-shaped beignets in other locations. If not, you always visit Ralph Brennan's Jazz Kitchen at Downtown Disney that serves delicious New Orleans-style beignets to-go. They even have limited flavors every month that are a must for foodies, and you don't need a park ticket to get them.
When Is Tiana's Palace Opening At Disneyland?
You may need to wait until 2024 to ride the Princess and the Frog attraction, but you can visit Tiana's Palace much sooner than that. Disney will be opening the Princess and the Frog-themed restaurant later this year. Late 2023 is also when the Mint Julep Bar will return to Disneyland as well.
New Orleans Square has already seen its first Tiana-inspired addition with Eudora's Chic Boutique Featuring Tiana's Gourmet Secrets. The retail shop offers Princess and the Frog home decor and apparel for big fans of the animated film. You could even pick up pieces from the Color Me Courtney x Princess and the Frog collab for a super cute Tiana-inspired Disneybound to wear to Tiana's Palace when it opens.