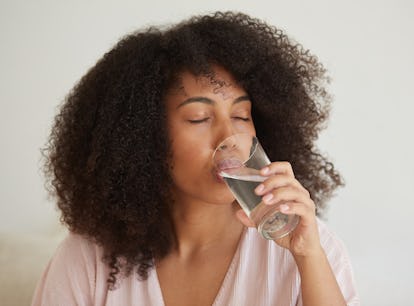 5 Things To Do Before Bed To Help Ward Off A Hangover
Plan ahead for a less miserable morning.
Shutterstock
So you went out for the night intending to grab a drink or two, but you wound up having a complete and utter night. It can be a blast spending a long night out with friends — that is, until you wake up the next morning. A hangover can be worse than every flu you've ever had, not to mention it inspires minimal pity from your friends when you're begging them to bring you a breakfast sandwich. You might not be able to save yourself this time, but there are several things to do before bed to prevent a hangover that will save you from some of that pain next time.
By the time you reach drinking age, you've probably heard of tons of different "solutions" to save you from your hangover — some more believable than others. Unfortunately, though, there's no concrete cure for a hangover besides the passage of time. Le sigh.
However, there are things you can do to minimize the levels of pain and suffering you experience along the way, like hydrating, eating the right types of food, and trying (against all odds) to get a good night's sleep. Here's what science has to say about the classic hangover cure go-tos and whether they really work.
Studies referenced:
Barve, S., Chen, S. Y., Kirpich, I., Watson, W. H., & Mcclain, C. (2017). Development, Prevention, and Treatment of Alcohol-Induced Organ Injury: The Role of Nutrition. Alcohol research : current reviews, 38(2), 289–302.
Eriksson, C. J., Metsälä, M., Möykkynen, T., Mäkisalo, H., Kärkkäinen, O., Palmén, M., Salminen, J. E., & Kauhanen, J. (2020). L-Cysteine containing vitamin supplement which prevents Or Alleviates ALCOHOL-RELATED Hangover SYMPTOMS: NAUSEA, Headache, stress and anxiety. Alcohol and Alcoholism, 55(6), 660–666. https://doi.org/10.1093/alcalc/agaa082
Experts:
Dr. Jessica L. Moreno, PharmD, BCPP
Dr. Elizabeth Schlosser, PharmD, BCPS, BCACP
This article was originally published on