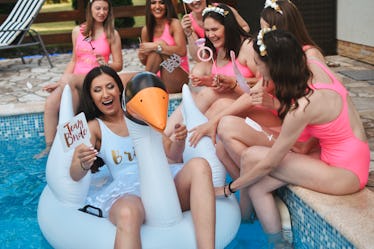 30 Palm Springs Bachelorette Party Captions For Your Desert Celebration
Pack these on your Palms Springs fling before the ring.
Bachelorette Party Instagram Captions for a Palm Springs Getaway.
Gather your bridesmaids, because the wedding countdown is on. Now that you've got the ring, the wedding's planned, and your wedding dress is waiting patiently for you to put it on, the bachelorette festivities can finally begin. Your best friends want to join in on your happiness and throw you an unforgettable girls trip before they hand you off to your fiancé. The bachelorette party is all about the bride, but make no mistake — your besties want to get in on the celebration as well. Bring your "I do" crew down to sunny southern California and pair your poolside photoshoot Instagram pics with one of these Palm Springs bachelorette party captions.
Your girl squad was there for your entire love journey, witnessing so many flop exes before you finally found someone who lights up your world. You've had countless sleepovers where you cried together over bad breakups or ghost-wrote each other's first text to a crush. Your besties were always there to give you tough love and tell you when it was time to dump someone, which is why their stamp of approval is something to celebrate.
Palm Springs is the ideal place to catch a tan, pop some bubbly, and hit the spa for a pre-wedding glow. It's the final fiesta before she's a "Mrs," so go all out and capture every memory with a bachelorette party photo dump. When it comes time to post, say "Cheers!" to lifelong love and friendship on Instagram with one of these fun Palm Springs bachelorette party captions for your special getawya.
"Girls just wanna have sun."
"The ultimate 'I do' crew."
"She's the wife of the party."
"A Palms Springs fling before the ring."
"'Til death do us party."
"Pop the bubbly, she's getting a hubby!"
"Bach, please."
"Bach and boujee."
"Cheers to love and sunshine."
"It's the final countdown."
"They popped the question, so we're popping bottles."
"Something borrowed, something blue, rosé all day, and friendship that's true."
"Besties need a honeymoon too."
"4 life-rs"
"Took the bride out to play before the big day."
"The final fiesta."
"Wedding bells and bikinis."
"Letting loose before she ties the knot."
"Here come the bridesmaids."
"No boys allowed!"
"If you wanna be my lover, you gotta get with my friends." – The Spice Girls, "If You Wanna Be My Lover"
"In girl squad we trust."
"She's love drunk, we're just drunk."
"Lifelong friends are as rare as true love."
"I take you, besties, to have and to hold, for as long as the party lives."
"BAEchelorette!"
"Next stop: Vow Town."
"Drinking bubbly with our bride."
"Bridesmaids gone wild."
"Good girls go to heaven, and the best brides go to Palm Springs."