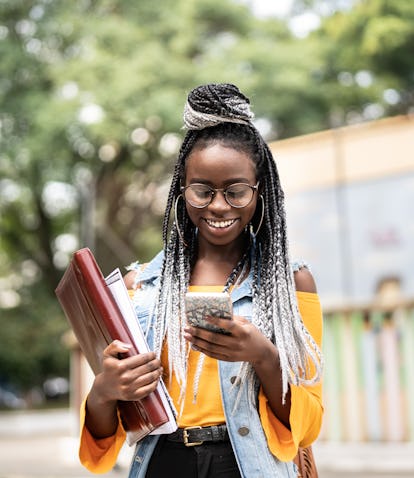 12 People On The 1 Thing They Wish They Knew About Money In College
Why doesn't anybody tell you what a Roth IRA is?
FG Trade/E+/Getty Images
Once you graduate high school or college, you realize how little you actually learned. Sure you might know why the Civil War started and know how to find the circumference of a circle, but what about the skills and knowledge it takes to survive and thrive as an everyday adult?
Money not only makes the world go 'round, but it makes our livelihoods possible, makes fun and rest doable, and is required to live a well-balanced existence. So why aren't we taught more about money in school? The answer might not be clear, but if you're just starting out, you can take note from these 20-somethings who share what they wish they knew about money in college.
The Difference Between Savings Accounts, Checking Accounts, & Credit Card Points
"I feel like I've been playing catch up ever since. When you start working on a minimum wage job, financial literacy could help you save money in the long run. I think there's a lot of fear in lack of understanding and judgment, so it doesn't feel like there's a safe space to ask questions, especially as a female." — Sydney, 28, New York City
That There Are More Ways To Make Money Than You Think
"A dollar today could be worth $100 in 10 years. If I knew this, I would have started saving money differently and invested sooner/in different ways. I don't think I would've started a different career path per se but would have liked to start additional side hustles." — Hena, 25, New York City
That I Shouldn't Waste Money On Fast Fashion
"It's a waste of money, and it's 1,000 times better to buy investment/lifelong pieces, like leather jackets, real denim jeans, quality belts, shoes, and bags. These pieces will stay with you for 20 years, and you'll build memories and stories with these items. Your fast-fashion pieces usually don't last past three months. Quality over quantity!" — Darby, 24, Los Angeles
That Not Everyone Has the Same Amount of Money In College
"Personally, I probably missed out on friendships because I didn't think a $20 meal was a big deal, and for campus activities, I missed out on having perspectives and voices in groups because I didn't think about how not everyone has the time to participate in campus activities if you're also working a job, for example. If I thought about it when I was on campus, I would've at least started the conversation to try to get our campus journalists paid." —Alexandra, 29, New York City
What A Good First Credit Card Is
"I had no idea how to build credit or [about] a good first credit card to start with. You should start making small payments on loans before graduating if possible. It helps with building a budget for yourself and setting yourself up for good habits." — Olivia, 28, Chicago
How To Do Your Taxes
"No one ever teaches you, and you'll have to do them for the rest of your life." — Miller, 29, New York City
What Filing For Bankruptcy Means
"Bankruptcy protects retirement funds, and it's better to go bankrupt if needed than to cash out retirement." — Jay, 28, Elgin, Illinois
What A Roth IRA Is
"I wish I knew what a Roth IRA was." — Mairead, 25, New York City
"Your credit score is important! And open a Roth IRA." — Maggie, 29, New York City
To Start A Roth IRA At Age 18
"It's one of the few times when you can accumulate tax-free wealth, and the sooner you start, the better. To max it out, you'll need to contribute about $540 a month. This can seem like a fortune to a college student, but it's a savvy way to begin making smart money moves at a young age, especially if you understand compound interest. For example, if you open a Roth IRA account at the age of 25 and max it out each year, you'll have contributed about $260,000 over 40 years, but the account will have grown to about $1 million by the time you're 65." —Lacey, 27, Glendale, California
To Read The Fine Print
"When a job offers you an $8,000 relocation package, read the fine print and make sure you don't have to pay it back if you don't work there for four years." — Connor, 25, Columbia, South Carolina
To Learn Money Terminology
"I wish I knew basic investment strategies and the associated terminology. I feel that this is especially important in the current era of rampant scams, which often prey on young people with insufficient knowledge." — Alex, 28, New York City