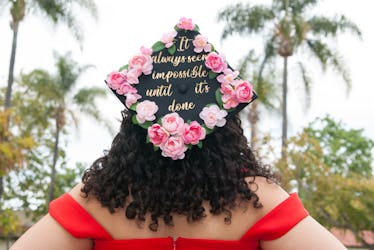 Matching Graduation Cap Ideas For You And Your Best Friend On Grad Day
It's only right to twin with your bestie on your big day.
Shutterstock
It's officially graduation season, and what a bittersweet time it is. For the past four years, you and your bestie have worked hard (and played hard) while eagerly awaiting graduation. Now the time has come to walk across that stage together, and just thinking about it gives you all the feels. Before the big day, it's only necessary you and your best friend have matching graduation caps.
Your graduation day is a day you'll remember for the rest of your life — from the candid pictures you'll snap with your college besties, to accepting your diploma and tossing your cap in the air. Of course, you want the whole day to be perfect — from planning out the cutest outfit, right down to having your graduation cap decorated flawlessly.
Your cap is symbolic of your transition from being an undergrad to taking that next big step into the real world. It's also something that should showcase your personality. In a sea of matching gowns and tassels, your graduation cap is how your family and friends will be able to spot you out. Therefore, deciding what to put on your cap is kind of a big deal. You and your bestie can go for something punny about your majors, or thank the people who supported you throughout your journey. If you need some inspo, these matching graduation cap ideas will hopefully give you and your best friend some options before you get crafting.
This article was originally published on