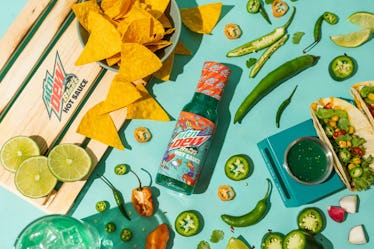 How To Get Mountain Dew Baja Blast Hot Sauce With This Sweepstakes
It's getting hot in here.
Courtesy of MTN DEW
Apparently there are no rules anymore, because Mountain Dew has turned your favorite soda flavor into *checks notes* a hot sauce. In the lead-up to National Hot Sauce Day on Jan. 22, the soda company is firing things up with an exclusive hot sauce flavor inspired by a cult favorite drink. Here's how to get Mountain Dew Baja Blast Hot Sauce, which dropped on Jan. 19 with a limited supply of 750 bottles. Since you won't see it in stores, you'll want to grab your luckiest charm when you enter the Mountain Dew Baja Blast Hot Sauce sweepstakes.
OK, I dropped a lot of details there, so let's break it down: Baja Blast is no longer only a drink; you can't buy this hybrid soda-hot sauce in stores; and you'll have to enter a sweepstakes to figure out what the sauce actually tastes like. Surprisingly, this isn't the first time Mountain Dew has entered the hot sauce chat. In October 2020, the company launched a hot habanero hot sauce with NBA player Joel Embiid. What is new with the company's latest hot sauce drop is the addition of the soda flavor.
If you're familiar with the Baja Blast drink, you're probably expecting the hot sauce version to be packed with "tropical lime flavor," as Mountain Dew describes the sip. Not only will it likely be a zesty drizzle, but it brings the heat with habanero peppers, green chiles, and jalapeno peppers, in partnership with Houston-based hot sauce shop iBurn.
How To Enter Mountain Dew Baja Blast Hot Sauce Sweepstakes
There's no time to waste: You have until midnight ET on Feb. 8 to enter on the sweepstakes website. First up, Mountain Dew wants to know which foods you'll put the hot sauce on if you win. With ideas from an egg sandwich to burritos, tacos, and wings, you have plenty to choose from. You don't have to pick one to enter the giveaway, but it's a fun way to get those taste buds tingling.
When you're ready, visit the Mountain Dew sweepstakes website, and choose a food you'd top with the Baja Blast Hot Sauce. Enter your personal details, including your address so Mountain Dew can ship you the bottle if you win. Follow the steps to agree to the rules, and you're all set. Keep an eye on your email inbox around Feb. 9, because that's when Mountain Dew will notify its 750 winners. The prize is a Mountain Dew Baja Blast Hot Sauce Prize Pack worth $50 that includes a bottle of sauce, a two-taco holder with a condiment cup for your sauce.
The limited-edition bottle is branded with a colorful Baja Blast-esque green label and cool graphics like a parachuting chili and a volcano erupting with what looks like Baja Blast. It's truly a collector's bottle. As of Jan. 19, the sweepstakes is the only way to get a bottle. Mountain Dew, if you're reading this, I'm sure Baja Blast stans will agree when I say I'm hoping to see this hot sauce on shelves, too.