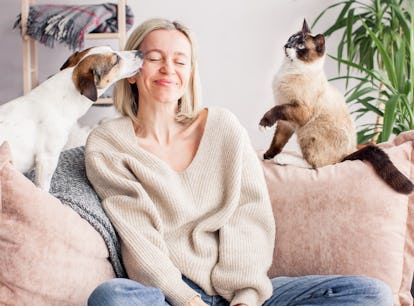 How To Apply To PetSmart's $10K Chief Toy Tester Job For Your Pet
Shutterstock
Has your pet been living rent-free in your home? (Same.) Of course, the love and cuddles they give you are priceless, but food, toys, and all the other goodies cost real money. If you've ever related to that meme about a dog being exasperated despite not needing to do anything but sleep, eat, play, and be adorable, then you'll be ready to enter your fur baby for this ~unique~ opportunity. Here's how to apply to PetSmart's Chief Toy Tester job for your cat or dog and potentially make $10,000. Forget becoming a CEO, this sounds way more fun: If you love spoiling your pet but buying toys and treats adds up, this could be the dream job for your furry friend.
PetSmart is hiring, and the company is looking for a toy- and treat-loving cat and dog to each be a VIP (Very Important Pet), per a Jan. 17 press release. The chosen pup and kitten will have "a nose for sniffing out the tastiest treats, paws for toy product play, and a perfect tail to wag (or wave) when appearing as a VIP at PetSmart events," according to the job description. It pays to be a Chief Toy Tester — $10,000 for a year, to be exact — and the work perks include free toys, treats, and quarterly salon treatments to look the part.
You'll need to submit an application for your furry companion by 11:59 p.m. ET on Feb. 17 to be considered. So, put a pause on play time and get ready to apply.
How To Apply For PetSmart's Chief Toy Tester
Head to AnythingForPets.com to fill out PetSmart's Chief Toy Tester application. You'll need to enter some basic details about your pet, like its name, age, and breed. Then, you have to submit three pieces of content: a 10-30 second video, a still photo, and a 200 word or less review of your pet's favorite toy from your or your pet's perspective — it's time to really get in your pet's head.
PetSmart is encouraging pet parents to get creative, because toys and treats are supposed to be fun. Some ideas to get you going include a "cat strutting the catwalk in the latest fashion, pups having a ball with their new toys, or pets showing off their skills when the zoomies hit," per the press release. There are only two positions available (one for a dog, and one for a cat), so bring out the good treats to make sure you get the best boop photos yet.
You probably already have an album full of pics and videos of your pet, so why not get paid for it? As the owner of a PetSmart Chief Toy Tester, you'll be capturing social media content of your pet, trying out the new toys, and demonstrating their uses, according to the job description.
As if that's not convincing enough, think of all the free toys and treats for a year (not to mention, the $10,000!). You'd be the best pet parent ever.