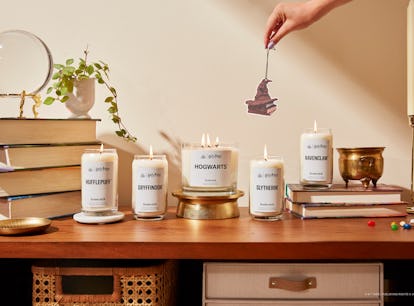 Homesick's Harry Potter Candle Collection Will Transport You To Hogwarts
Do I want my home to smell like Gryffindor or Slytherin?
Courtesy of Homesick
There's just something about the fall season that makes you want to throw on a cozy cardigan, light a few candles, and revisit Hogwarts with a Harry Potter re-watch. Homesick gets it. The company known for nostalgia-filled candles that make you feel as if you've been transported to your favorite place or time is now heading off to the Wizarding World. Homesick's Harry Potter candle collection will make you feel like you're at Hogwarts Castle even when you're just chilling at home.
The all-new collection includes five new candles and an air freshener that Potterheads will want to Accio to their carts ASAP. The Homesick Harry Potter scents are inspired by the Wizarding World and include Easter eggs and references that true fans will appreciate. The question is, which candle are you more eager to add to your collection? If you've sorted yourself in a Hogwarts house, choosing a candle will be quite easy as you can just choose the house you belong to. There are Gryffindor, Slytherin, Hufflepuff, and Ravenclaw candles in the collection, with unique scents that pay homage to that house's particular traits. Of course, for anyone who hasn't sorted themselves or aligns themselves with multiple houses, you can always treat yourself to a massive Hogwarts three-wick candle instead. There's also a Sorting Hat air freshener for on-the-go Wizarding World scents for your car, whether it flies or not.
Muggles who are intrigued by the Homesick Harry Potter collection will want to sign up to be the first to know when the collection goes on sale Oct. 12. Until then, sort out which candles you'll want to get for you and your besties.
We may receive a portion of sales if you purchase a product through a link in this article.