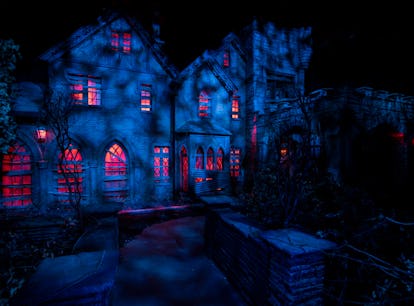 12 Haunting Of Hill House Easter Eggs From Universal Studios' Halloween Horror Nights Experience
Only the most diehard fans will notice these details during their visit.
NBCUniversal
After a one-year hiatus, Halloween Horror Nights is back at Universal Studios for 2021 with all-new spooky treats and a total of 10 haunted houses inspired by your favorite scary movies and TV shows. In honor of Halloween Horror Nights' 30th anniversary, Universal Studios teamed up with Netflix to create a one-of-a-kind Haunting of Hill House experience — and it's so terrifyingly realistic that it'll make you feel like you're wandering the halls of Hill House with the Crain family. There are so many subtle details from Season 1 of the hit Netflix series inside, and you'll definitely want to keep an eye out for these Haunting of Hill House Easter eggs when you visit Universal Studios' Halloween Horror Nights in Orlando, Florida.
Because Netflix teamed up with the Universal Studios' Halloween Horror Nights team to recreate the Crain home in Orlando, it's unsurprising that no detail from The Haunting of Hill House was left unexplored. The house sets the stage right away. When you walk up, you'll go past the iron gates and see a detailed facade of Hill House spookily lit up just like in the series while the Haunting of Hill House soundtrack plays in the background. While the outside of the house is eerily realistic, the inside also looks (and feels) like it's straight from the set of The Haunting of Hill House with numerous replicas of Hill House's decor as well as recreations of its internal structure. You can actually travel through the library, the basement, and the Red Room while the iconic red door looms in the background — all while the ghostly inhabitants of Hill House accompany you, of course.
While masks are not required inside of the Haunting house, keep in mind that the Centers for Disease Control and Prevention (CDC) recommends that both vaccinated and unvaccinated people should still wear them when inside or in crowded places. In addition, the CDC states that you should not travel until you're fully vaccinated. If you're planning a trip to Orlando to check out this year's Halloween Horror Nights and want to be prepared, keep an eye out for the 12 Haunting of Hill house Easter eggs you might not notice unless you're an avid fan.
Halloween Horror Nights runs select nights through Oct. 31, 2021 at Universal Studios in Orlando, so make sure to purchase your tickets if you haven't already and mentally prepare yourself for all the scares.
The CDC recommends traveling only after you're fully vaccinated and your vaccine has become fully effective. If you're not fully vaccinated and must travel, check the CDC guidelines before you book. Check your destination's vaccination and testing requirements before you depart.