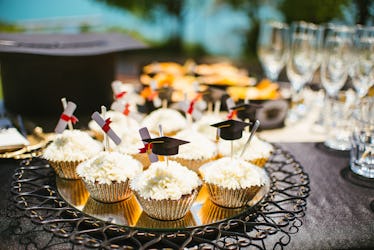 11 Graduation Party Themes To Help You Celebrate The Next Chapter In Style
Make it a day to remember with the perfect grad theme.
Shutterstock
Graduation day is right around the corner, so get your confetti ready to toss up in the air. Congratulations are certainly in order. The past four years have been hard work, and now's the prime time to celebrate all you've accomplished. The ceremony is about commemorating your college experience with your peers, and you'll live for the moment when you turn your tassel. But let's get real here: your grad party is when the real celebration begins. All eyes will be on you as your friends and family raise their glasses to their favorite graduate. You'll want to party it up in style, and these graduation party theme ideas will help make your day even more special.
Choose a theme that really speaks to your soul. It will help with picking out the right decorations, snacks, and even music. Whether it's a travel theme or beach themed graduation party, your guests are guaranteed to have a good time. The only problem is, you've already spent hours working on finals and wrapping up your essays. You deserve a break, and these graduation theme ideas will make your life a little easier. Hopefully, these 11 graduation party themes will give you even a little bit of inspiration. Picking a theme will be the only work you'll have to do, and the rest will fall into place. So, party on, because you deserve it. Happy graduation day!
This article was originally published on