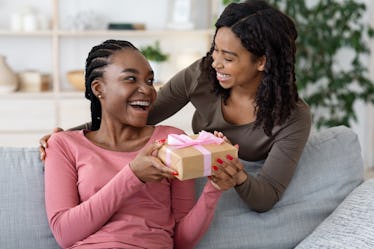 12 Adorable Graduation Gifts That'll Help Your BFF Navigate Post-Grad Life Like A Pro
Shutterstock
It's that time of year: college graduation season. That means lots of bittersweet tears, celebratory mimosas, and of course, gift-giving. It can be downright impossible to figure out a good graduation present for any person, but this year, you really want to nail some graduation gifts for your best friend. It can't be too expensive (student loans are about to become a real-life nightmare), but it shouldn't be a total waste of the few dollars you have to your name either, because come on, it's your bestie, and she deserves, well, the best. Getting your best friend a gift on any occasion, let alone for college graduation, is an art, one that requires a bit more thought and effort, as well as a little bit of cash.
Of course, the graduation gift always depends entirely on the best friend you're getting it for. Is your friend a travel junkie? A soon-to-be big-shot Wall Street executive? Are they on their way to the Peace Corps or planning a trip around the world? All of this should factor into what you decide to get for them. You not only have to think about who they are as people, but also what they're going to find useful in the next phase of their lives. Here are 12 sentimental graduation gifts for best friends with a guarantee that they'll absolutely love it.
We only include products that have been independently selected by Elite Daily's editorial team. However, we may receive a portion of sales if you purchase a product through a link in this article.
This article was originally published on