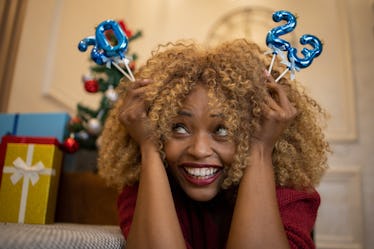 Goodbye 2022 Quotes For Captions When You're Saying Hello To 2023
Cue the 2022 recap posts.
Rockaa/E+/Getty Images
Another year is coming to a close, and you're ready to say goodbye to 2022. The year trudges along for so long until it's suddenly the holiday season and time seems to have flown by. A lot can change in just one year, and there are so many memories and life lessons to reflect on as you count down to 2023. If you're planning on slaying on the night of New Year's Eve or are looking forward to posting your yearly 2022 recaps, grab these goodbye 2022 quotes for captions that welcome 2023 with open arms.
Whether you had an amazing or horrible 2022, or somewhere in between, a new year brings in a fresh new start for better possibilities to take place. After hibernating during the holiday season, you can set goals for the new year and vow to leave the past where it belongs. It's time to celebrate everything that went right in 2022 and live in the moment to create an even better 2023. It's like the old saying, "Yesterday is history. Tomorrow is a mystery. Today is a gift — that's why it's called the present." If your 2023 vision is starting to kick in, grab these goodbye quotes for 2022 recap posts and highlight Reels that welcome the new year.
"*Clink-clink*"
"Alexa, play 'Midnights' by Taylor Swift."
"Another year in the books.
"I'll get you out on the floor, shimmering beautiful." — Taylor Swift, "mirrorball"
"My Spotify Wrapped tells you everything you need to know about my 2022."
"Taking applications for my New Year's kiss."
"The best endings always have confetti."
"2022, you're toast."
"Why was 6 afraid of 9 on New Year's Eve? Because 9, 8, 7..."
"2022, you were my cup of tea, but now I drink champagne."
"I never look back, darling. It distracts from the now." — Edna, The Incredibles
"2022: thank you, next." — variation of Ariana Grande, "Thank U, Next"
"That's all." — The Devil Wears Prada
"Out with the old, in with the new in 2023."
"See you next year!"
"Have faith in new beginnings."
"Best believe I'm still bejeweled, when I walk in the room, I can still make the whole place shimmer." — Taylor Swift, "Bejeweled"
"I've got 2023 vision."
"Expecting a clever caption? That is SO last year."
"Just here to find my Troy Bolton."
"For last year's words belong to last year's language, and next year's words await another voice." — T.S. Eliot
"I haven't taken a selfie since 2022."
"The best way to predict the future is to create it."
"2023 is going to be sparkling."
"I want your midnights, but I'll be cleaning up bottles with you on New Year's Day." — Taylor Swift, "New Year's Day"
"What a wonderful thought that some of the best days of our lives haven't even happened yet."
"Bring on the bubbly."
"Less bitter, more glitter."
"Yesterday is history. Tomorrow is a mystery. Today is a gift — that's why it's called the present."
"All dressed up with a whole year to go!"
"Don't cry because it's over, smile because 2023 is about to happen."
"Ready for my 2023 glow up."
"Manifesting the 2023 of my dreams."
"My last photo dump of 2022."
"Champagne dreams ahead of 2023."