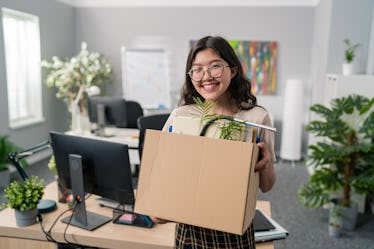 30 Funny Captions To Announce You Quit Your Job On Instagram
The Great Resignation is going strong.
Shutterstock
Quitting a job is always a positive step when you're working somewhere that doesn't treat you right or feed your hunger for life. It's not always easy, especially when you've invested your time and labor, but staying too long in a bad situation just takes time away from an even better opportunity to take shape. One job is never worth breaking your soul over, which is basically what Beyonce herself tells us in her new Great Resignation single "Break My Soul." So if you're "'bout to explode, take off this load" and send in your two weeks' notice today, snap a victory shot and post it on Instagram (or even LinkedIn!) with these funny quitting job quotes for captions that'll stick it to the boss. Like Queen Bey says, "You won't break my soul. I'm telling everybody, everybody."
Leaving something that no longer benefits you takes a lot of courage, but you owe it to yourself to enjoy the work you do. The average person spends about one-third of their life working — that's a lot of wasted time being unhappy! But when you find joy in what you put out in the world, you'll end up strengthening your talents and contributing even better work.
Eventually, you reach a point where it's time to cut your losses, regroup, and imagine a better job role for yourself that makes your life better, instead of draining you for all you're worth. Soon enough, you'll land a better gig and need some new job captions for your #winning 'Gram. If you need the motivation to quit a soul-breaking job or you're already posing for your celebratory "peace out!" post, pull out these Instagram captions and quotes about quitting your job.
"There are far better things ahead than we ever leave behind." — C.S. Lewis
"You won't break my soul." – Beyonce, "Break My Soul"
"Comfortable shoes and the freedom to leave are the two most important things in life." – Shel Silverstein
"In every job that must be done, there is an element of fun." — Mary Poppins
"Your days are numbered. Use them to throw open the windows of your soul to the sun. If you do not, the sun will soon set, and you with it." – Marcus Aurelius
"If you're brave enough to say goodbye, life will reward you with a new hello." – Paulo Coelho
"Take this job and shove it." – Johnny Paycheck, "Take This Job and Shove It"
"God knows, got to make it on my own. So, baby, can't you see I've got to break free?" – Queen, "I Want to Break Free"
"Destiny is not a matter of chance, it is a matter of choice." – William Jennings Bryan
"Well you got dreams and you know they matter. Be your own boss, climb your own ladder." – Dolly Parton, "9 to 5"
"Retired from sad." – Mitski
"Time is the coin of your life. It is the only coin you have, and only you can determine how it will be spent. Be careful lest you let other people spend it for you." — Carl Sandburg, Poet
"I'm quitting to pursue my dream of not working here."
"You can't start the next chapter of your life if you keep re-reading the last one."
"Per my last email... bye!"
"I may need to extend my lunch break into never coming back."
"I just quit my job at the helium factory. I won't be spoken to in that tone."
"We need to do a better job of putting ourselves higher on our own 'to-do' list." — Michelle Obama
"To acquire love, fill yourself up with it until you become a magnet." — Charles Haanel
"Never get so busy making a living that you forget to make a life." – Dolly Parton
"You can quit your job, but you can't quit your calling." – Lissa Rankin
"When you cannot work with love but only with distaste, it is better that you should leave your work." – Khalil Gibran
"There is a difference between giving up and believing in something better."
"The only way to do great work is to love what you do. Don't settle. As with all matters of the heart, you'll know when you find it." – Steve Jobs
"The moment that you start to wonder if you deserve better, you do."
"The only time you fail is when you fall down and stay down." ― Stephen Richards, "Cosmic Ordering: You can be successful"
"Whether you think you can't or can, either way, you are right." – Henry Ford
"OOO until further notice."
"Ask for what you want and be prepared to get it." – Maya Angelou
"I'm gonna find new drive, damn, they work me so damn hard." – Beyonce, "Break My Soul"