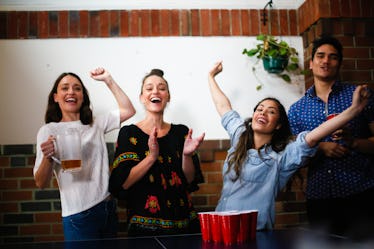 10 Friendsgiving Drinking Games To Play At Your Party To Get Into The Holiday Spirit
Never have I ever had so much fun.
P_Wei/E+/Getty Images
Getting to spend Friendsgiving with your crew is definitely cause for celebration. If you're 21 and up, one way to toast to your friendship is by popping open a bottle of wine or champagne. You may even want to play some fun Friendsgiving drinking games between courses to really get in the spirit of the season.
Whether you're planning an intimate dinner or feasting in your backyard, your besties coming together will definitely make you want to cheers while catching up. If you plan to hold your Friendsgiving in the backyard, you could play a round or two of beer pong with all the space you have for tables. Setting up a tournament style bracket with teams of two could really take your Friendsgiving to the next level.
Whether you plan on being the beer pong champ or prefer sipping your wine and cheering from the sidelines, participating in a few Friendsgiving drinking games with your favorite people will help everyone catch up ahead of the main event in a more casual setting. It's not just beer pong, either. There are plenty of drinking games you and your crew can enjoy while you're waiting for the turkey to finish cooking or as you're making room for pie. Either way, you have to incorporate some sort of drinking game at your Friendsgiving feast to really make your get-together one to remember. And if you want to stick with water or soda, that's fine as well.
Playing some drinking games really is the best way to let the fun times flow, while making new memories and inside jokes with your mains. You just need to figure out which of these 10 Friendsgiving drinking games to play. Even if these are all new to you, it's worth a shot trying them out. You never know what will become your new fave holiday tradition.
Friendsgiving drinking games can be just about any variation of an ordinary game. Ultimately, your group of friends is always something to cheers over.
This article was originally published on