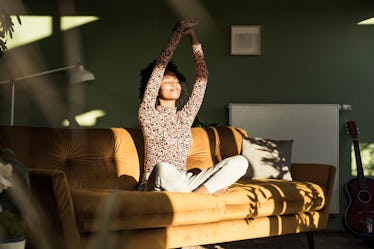 Experts Share The Best Free Ways To Practice Self-Care — And They're So Easy
No expensive face products or rituals needed.
Westend61/Westend61/Getty Images
Everywhere you turn these days, there's an incredible amount of emphasis placed on self-care in the form of face masks, bubble baths, and other (ahem, overpriced) products that claim to banish your stress and help you find ~inner peace~. Honestly, though, sometimes you just don't have the time, let alone the money for such elaborate purchases and rituals. Still, that doesn't mean you should neglect yourself or your needs. There are so many free ways to practice self-care that won't cost a single penny or take up a huge chunk of your day, but will still leave you feeling centered, balanced, and brimming with self-assurance.
According to Kea Meyers Duggan, a life and career coach and the founder of The Aha! Project, self-care of any kind is vitally important, and should never be brushed aside. "Seemingly we are in this hustle-and-grind culture where we're always onto the next thing, but never appreciating or taking stock in what we just accomplished," Duggan tells Elite Daily. "Or, we simply fill our calendars with busy work or meetings and social events, and places where we give our time, talents, and expertise away to others before ever tending to ourselves."
Sound familiar? Well, pouring from an empty cup, more often than not, can leave you feeling devalued, drained, and even aggravated — but that's where easy self-care practices come in. "Self-care is a way to fill your gas tank or your cup," Duggan says. "[Caring for yourself] is not selfish; it's actually quite the opposite. If you are not replenishing your mind, body, and spirit, you can't expect to be able to give effectively to others."
Here are 14 free self-care ideas that will fill your metaphorical cup to the brim, so you can pour freely and generously, and in turn, be able to live your life as wholly as you deserve to.
Experts Cited:
Angel Hoodye, MS, LPCS, CART, owner of Flourishing Hope Counseling
Dr. Courtney Tracy, LCSW, PsyD, a psychotherapist, mental health influencer, and host of the podcast HUMAN First With Dr. Courtney Tracy
Ili Rivera Walter, Ph.D., career and wellness coach
Jennifer L. FitzPatrick, a licensed clinical social worker and author of the book Cruising Through Caregiving
Jessica Tappana MSW, LCSW, founder and director of Aspire Counseling
Kea Meyers Duggan, a life and career coach and the founder of The Aha! Project
Lisa Akers, a herbalist
Lisa Olivera, a licensed marriage and family therapist
Megan Thomas, a licensed professional counselor at New Moon Rising Wellness
Dr. Pamela Reilly, naturopathic physician
Sarah Thacker, a therapist and health coach
Sara Weinreb, founder of the M Lis
Susan Rose, happiness and success coach
This article was originally published on