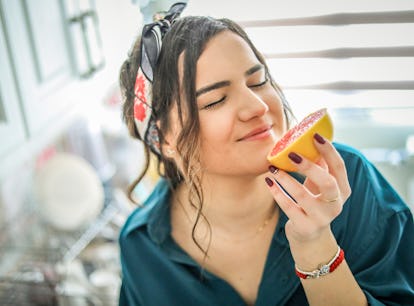 Here's The Truth About Whether Certain Foods Can Change How You Taste Down There
In case you feel like experimenting.
Your vagina is great. Whatever your vagina tastes like and smells like? Also great. Think of your taste down there like a fingerprint or a little piece of your DNA: It's something totally unique to you, which is pretty awesome in and of itself. But it's interesting to think about the fact that there are certain types of foods and beverages that could potentially alter the chemistry of your nether regions. That brings us to some age-old questions: Do fruits like pineapples and grapefruits make your vagina taste better? Do any other foods make you taste sweeter down there?
It's worth noting that your eating, drinking, and even smoking habits can affect how all your bodily fluids taste and smell. When your body digests foods, it breaks them down into chemical compounds that affect how your bodily secretions smell — and some of those compounds are quite pungent. One example is the organosulfur compound asparagusic acid, which is what you smell after you eat a bunch of asparagus and go to the bathroom. So, following that logic, it'd make sense that your diet could alter how your vagina tastes, right?
Experts:
Jen Gunter, M.D., San Francisco-based gynecologist and author
Jess O'Reilly, sexologist and host of the podcast Sex With Dr. Jess
This article was originally published on