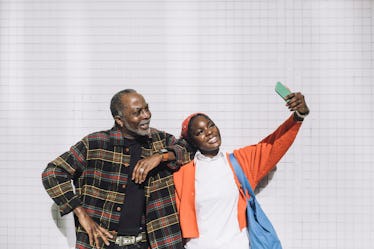 40 Father's Day Instagram Captions For 2022 That'll Make Dad Smile
These jokes are armed and "Dadly."
Maskot/Maskot/Getty Images
Father's Day is an opportunity to show your thanks and love for everything your dad's done for you. Father figures come in all forms, but one thing's always true: a father spends a lifetime providing for you with pure fun, loving support, and an unconditional shoulder to cry on. Celebrate your best friend, teacher, and go-to guy this year by honoring him on the grid, paired with the perfect funny or sweet Father's Day 2022 Instagram caption.
There are few words that can truly describe a father's strong love and soft guidance. Looking back, he's been there through it all. He carried little you to your bed when you fell asleep, spent those long nights helping you decipher middle school math homework, was there for all your birthdays, games, and graduations, and lead the way in those countless adventures that mom doesn't need to know about (unless you post those photos now).
It's dad's day to crack all the cringey jokes he wants, eat his favorite foods, and spend time with his greatest accomplishment – you. Whether you're snapping selfies at brunch or the ballgame, or sharing a #Throwback picture from old photo albums, make sure to shout out your awesome dad when you post them on Instagram with some funny dad quotes. Try these 40 unique Father's Day caption ideas for all kinds of built-in heroes that are funny, sentimental, and so real.
"I am my father's daughter/son."
"Don't tell mom..."
"Not all heroes wear capes."
"Daddy-daughter day."
"He ran so I could walk."
"One of my favorite parents."
"Where I get my good looks and sense of humor from."
"Thanks for getting rid of those spiders."
"I'll laugh at all your dad jokes today."
"Happy Father's Day! I'll show my dad how to use Instagram so he can see this."
"The Homer to my Lisa/Bart."
"The Marlin to my Nemo."
"I have the best dad in the world, no offense."
"'My Father's Eyes.' "
"HFD!"
"I have an excellent father, his strength is making me stronger." – Taylor Swift
"A father carries pictures where his money used to be" — Steve Martin
"Thank you for always catching me when I fall."
"A father is neither an anchor to hold us back, nor a sail to take us there, but a guiding light whose love shows us the way."
"Happy Father's Day, Dad! Remember that this holiday wouldn't exist without me."
"You're the cool parent."
"Champagne papi."
"Dad... You are my father."
"Your father…he never loses patience, never doubts or complains, but always hopes, and works and waits so cheerfully that one is ashamed to do otherwise before him." ― Louisa May Alcott, Little Women
"My MVP."
"Go bestie!"
"She did not stand alone, but what stood behind her, the most potent moral force in her life, was the love of her father" ― Harper Lee, To Kill a Mockingbird.
"Your puns are armed and Dadly."
"I still look up to you, even in heels."
"My rad dad."
"You taught me everything I know."
"I love my dad more than he loves his grill."
"A perfect dad and his perfect son/daughter."
"Father figure, dad-bod."
"A couch potato and his tater tot."
"Thanks for always being on my team."
"Making dad sneakers trendy since the '90s."
"Dad: A son's first hero, a daughter's first love."
"Not always eye to eye, but always heart to heart."
"Fathers hold their kids' hands for a while, and hearts for a lifetime."