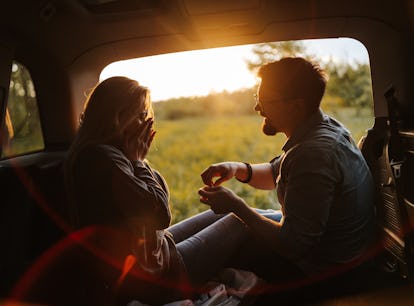 40 Fall Engagement Captions That You'll Adore A Latte
Give new meaning to fall-ing in love.
bojanstory/E+/Getty Images
Autumn isn't just a time for pumpkin spice lattes and multi-colored leaf piles. It's also a time to fall in love. In fact, many couples may be getting engaged, which is why you'll want to have some fall engagement captions on hand for when your partner pops the question. Perhaps you've already said yes to the love of your life and told your close friends and family. Now, you're ready to make it Instagram official. To go along with your ring pics and couple selfies, you'll need some good engagement quotes and captions to help announce the news.
Just like how you and your partner go so well together, you want an Instagram engagement announcement caption that fits in with the season. You could even plan your engagement photos to be on-theme as well. Go with a cutesy leaf pun if you've decide to share the news with a fall foliage photoshoot, or a pumpkin pun if you decide to post a ring pic while holding a PSL. If you decide to do an engagement photo dump on Instagram, go with a romantic quote or a lyric to your favorite song that has fall vibes. Whatever direction you decide to go in, these 40 fall engagement captions will come in handy. All you need to do is post and wait for all the congratulatory messages to start rolling in.
"We go together like pumpkin spice and lattes."
"I love you a latte."
"Who knew I could fall even more in love with you."
"Because I'm still in love with you on this harvest moon." — Neil Young, "Harvest Moon"
"Pie can't wait to spend the rest of my life with you."
"You'll always be the apple of my pie."
"What a wonderful day to fall in love."
"You can't ever leaf me now."
"I got me a boo for life."
"We're one gourdgeous couple."
"I've carved a special place in my heart for you."
"This is engagement ghouls."
"I've got an unbe-leaf-able fiancé."
"Sweater weather is better together."
"I can't wait to spend every autumn with you."
"My fall buddy for life."
"I knew you were the one when you said yes to every fall activity."
"Now, fall will always be my favorite season."
"I still fall for you every day."
"The cutest engagement pumpkins in this patch."
"Me and my boo are engaged."
"Jump then fall into me." — Taylor Swift, "Jump Then Fall"
"When you realize you want to spend the rest of your life with somebody, you want the rest of your life to start as soon as possible." — When Harry Met Sally
"I'm so grate-fall for you."
"Does this engagement ring match my sweater?"
"Isn't my engagement ring boo-tiful?"
"And they lived apple-y ever after."
"Orange you glad I said yes?"
"I'm red-y for all the wedding planning."
"I only have pies for you."
"Hay there, we're engaged."
"Sorry for getting so sappy, but my fiancé is tree-mendous."
"Give 'em pumpkin to talk about, like an engagement."
"You're my pick of the patch."
"Carve out some time in your calendar, because we're getting married."
"A new season and a new chapter in our relationship."
"Went for a hike, came back with a fiancé."
"Sure, it's fall, but have you tried falling in love?"
"Fall engagements sure have a nice ring to them."
"Simply meant to be." — The Nightmare Before Christmas