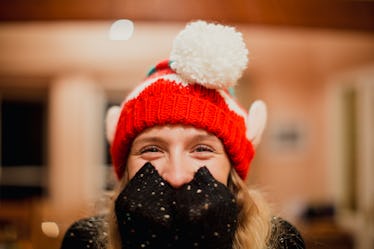 These 55 Elf Puns Will Be Your Little Helpers On The 'Gram
Take your elfie to the next level.
SolStock/E+/Getty Images
To really garner the likes you deserve on Instagram, you need a good caption to pair with your chosen pic, especially during the holidays. While a caption-less post is fine, you know something punny that makes your friends LOL will cause more of them to double tap while scrolling through their feeds. With the holiday season here, it only makes sense that you'd keep a few elf puns on hand for when you need a festive caption ready to go.
Just like Santa relies on his elves to do all the work for Christmas, you can rely on this list of 55 elf puns to get the job done online. With the right elf caption, you can take any normal selfie and upgrade it to a festive elfie. You don't even need to be wearing a cute elf hat or watching Elf to use any of these elf quotes, either. A good elf pun will pair well with your holiday sweater snap, a group pic reuniting with your besties for a Santa Clause marathon, or just a photo of you sitting by your Christmas tree. When the time comes to post whatever pics you take this December, you'll be ready to sleigh the day with any of these elf puns that are red-y to go.
"Gaining some elf-confidence."
"I've got good elf-control."
"Let me take an elfie."
"I've got a lot of elf-determination."
"Just be your-elf."
"Elves are the cutest. Don't you a-green?"
"You like my elf-portrait?"
"I'm very elf-sufficient during the holidays."
"You've got to apply your-elf."
"Just being my-elf."
"You've got to pull your-elf together."
"I made these cookies all my-elf."
"Don't be so elfish."
"I could really go for some fettuccini elfredo right now."
"Take an elfie. It'll last longer."
"I'm an elf-taught Christmas decorator."
"I've got high elf-esteem."
"You've got to treat yo'elf during the holidays."
"You've got to believe in your elf."
"Have your elf a merry little Christmas."
"Do you know your elf-abet?"
"If Rudolph and an elf became besties, would their BFF nickname be rudelf?"
"Hey, ain't elf bad."
"As elf!"
"Get the elf out of here."
"Ready for my 15 minutes elf fame."
"Best elf the bunch."
"Have an elf-ing good Christmas."
"I'm just a workshop in progress."
"You used to call me on my elf phone."
"I'm just a little elf-ish and want all the presents for my-elf."
"All in a day's workshop."
"If the pointy shoe fits, wear it."
"I'm simply ear-resistible."
"Bring the house-elf down."
"Now you're just some Dobby that I used to know."
"Elf-ementary my deer Watson."
"I've got some house-elf rules."
"That's going to cost you an arm and a Legolas."
"I'm an elf and safety inspector."
"Elves love wrap music."
"I'm just a Kreacher of habit."
"My elf puns really sleigh."
"Elves only use jingle bills."
"I'm a bad elf. You could say I'm a rebel without a Claus."
"My favorite musician is Elf-is Presley."
"I'm elf-employed."
"I prefer taking the elf-avator."
"Let's play it by ear."
"Sometimes in life, you just have to green and bear it."
"An elf is always ear for you."
"If you can't get to it right now, you've got to shelf it for later."
"I can't wait for the new ear."
"Come ear often?"
"More elf puns Claus I said so."