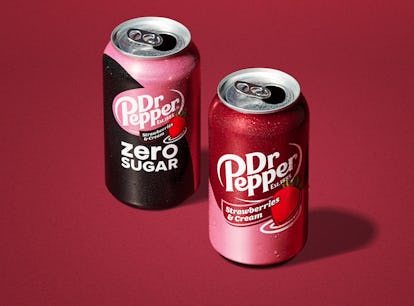 Dr. Pepper Strawberries & Cream Review: It's Sweet Like Candy
Is it strawberry season yet?
Courtesy of Dr. Pepper
It's been a while since you've seen Dr. Pepper's Berries & Cream soda on store shelves, but luckily the brand is launching a new flavor that'll make you forget all about the limited edition fave. It was announced on Feb. 1 that the new Strawberries & Cream sip would become a permanent addition to Dr. Pepper's lineup, but does the drink actually live up to its name? Spoiler alert: it (sorta) does.
It may not be strawberry season just yet, but the new Strawberries & Cream sip blends the refreshingly sweet taste of strawberries with all 23 original Dr. Pepper flavors into a smooth and creamy finish that'll make you feel like it's springtime. The drink comes in a regular and a Zero Sugar version, which means there's a lighter option for enjoying this candy-inspired drink. According to the press release, the new flavor will actually be the "only strawberry and cream flavored dark soda in the market today," so you can understand there's a lot riding on the new flavor for strawberries and cream lovers (myself included).
Because I'm such a stan, I tried the regular version of the new lineup addition ahead of its release. It may not be as flavorful as a classic candy, but it's still pretty sweet.
Dr. Pepper Strawberries & Cream Review
Right off the bat the drink gives off a strong strawberries and cream scent — like, before I even finished opening the can. The scent literally transported me back to my childhood to when I was obsessed with those Creme Savers that grandmas always seem to have in their purses.
Given the aroma was so familiar, I figured I knew what to expect, but I was actually a bit disappointed at first. The drink has a very creamy flavor to it which I enjoyed, but it tasted like I was drinking a cream soda rather than a strawberry sip. The strawberry came through a bit more on my second sip, but the flavor that came out on top was still the cream. It has a very vanilla-like taste to it, which you don't find in drinks too often, and I appreciated that.
Even though I was hoping the taste would match the scent, it's not like the whole bev is a total wash — far from it, actually. It's certainly not a flavor you come across often, and when you get a sip where the strawberry and cream are balanced, it really tastes like a piece of candy. I just wish there were more moments when the two flavors got to shine equally. But maybe that's just the nostalgia talking.
Where To Buy Dr. Pepper Strawberries & Cream
Everyone knows strawberries are the quintessential warm-weather fruit, but you can expect to see the new flavor in stores nationwide this month. You can grab a 12-pack of 12-ounce cans, or a 20-ounce bottle for a suggested retail price of $6.50, though prices will vary by retailer. The Zero Sugar version is also available in a 12-pack of 12-ounce cans.