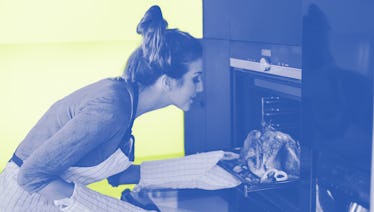 12 Disney Thanksgiving Recipes For A Mickey-Shaped Dinner Feast
Things just taste better when they're Mickey-shaped.
Filadendron, Getty Images
Picture Lumiere serenading you with "Be Our Guest" as you gear up for your Thanksgiving feast. The time is now to start preparing your menu, and if you want to bring a little of that fairytale magic to the table, these Disney-inspired Thanksgiving recipes will do exactly that. With a mix of official Disney Parks recipes and character-inspired ones, you can turn your traditional feast into one that's seriously magical.
There are some dishes you always look forward to enjoying over the holidays, like mashed potatoes and a festive pie. However, instead of regular mashed potatoes, whip up a copycat version of the garlic mashed potatoes served at the Garden Grill Restaurant at Disney's EPCOT. There are also Disney Thanksgiving recipes for a Rapunzel raspberry pie you'll want a slice of, along with the apple pie served at Walt Disney World. Since it's a Disney Thanksgiving feast, you should have Mickey-shaped food as well. Switch out your traditional rolls for a basket of Mickey waffles that'll make your meal more Insta-worthy.
While you're cooking, listen to some of your favorite Disney soundtracks or watch an animated movie on Disney+. A Disney Parks' parade on YouTube may even be the perfect entertainment to enjoy as you're making a Disney Thanksgiving meal, because it just wouldn't be Thanksgiving without a parade viewing, right? When everything's cooked and ready to go, it's time to enjoy a Disney Thanksgiving dinner that even the dishes would sing about if they could.
This article was originally published on