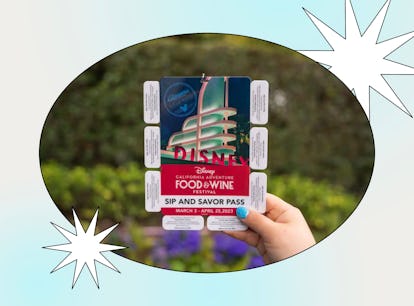 Is Disney California Adventure's Sip & Savor Pass Worth It? Kind Of
You have to be strategic to get the most from the $59 pass.
Disney/Elite Daily
Food and Wine is back again at Disney's California Adventure Park, and the limited-time festival offers a smorgasbord of Insta-worthy dishes all throughout the Disneyland Resort. There are so many sweet and savory treats to try that getting a Sip and Savor Pass for the festival may be on your to-do list. The lanyard credential that costs $59 allows you to try select dishes from the festival, but you might be wondering if Disney California Adventure's Sip and Savor Pass is actually worth it. If you plan on eating the day away, this pass can save you some major money. However, you have to be smart about what you order.
The 2023 Disney California Adventure Food & Wine Festival runs from March 3 to April 25, which means you have over a month to try everything you want from the festival marketplace. Of course, if you're only visiting the Disneyland Resort for one day, you'll want to make the most of your trip by eating from park open to park close. With the purchase of a Sip and Savor pass, you get eight tabs that can be used to pay for certain menu items at the festival. Select dishes and alcoholic drinks are not included in the Sip and Savor Pass, but there are plenty of must-have items that are. For instance, you'll want to try the viral Elote Paleta — a frozen elote popsicle — or festival fave Carbonara Garlic Mac & Cheese. If you manage to plan out your festival day just right, you can save around $13.
What Is Disney's Food & Wine Festival Pass?
Disney's Food & Wine Festival has 12 festival booths set up in the park. Each marketplace booth has its own theme and menu, and some select Disney dining locations like restaurants and carts in California Adventure are also participating in the festival. At these locations, you can try speciality menu items or tasting-size portions of limited-time entrees. After ordering at any booth or participating location, pay for your food with one of the breakaway tabs from your Sip and Savor Pass.
Dishes range in price from $6 to $9 at the festival booths. The pass itself costs $59 or $54 for Magic Key holders — aka Disneyland passholders. Since you get eight tabs for each pass, there's a way to save up to $13 for regular guests and $18 for passholders. You just need to make sure you're ordering the most expensive food. Even if you're ordering a variety of things you want to try, you'll still be saving a few bucks with the Sip and Savor Pass — but there is an easy way to lose money.
Disney California Adventure's Sip & Savor Pass Review
I was invited to try Disney's Sip and Savor Pass for the 2023 Disney California Adventure Food & Wine Festival, and as a Disneyland foodie, I loved it. The dishes and drinks I got with my pass were:
Echo Park Cooler — $7
Kenny's Family Cheesecake — $6.50
Blueberry Buttermilk Pie — $6.50
Like a Lemon-Raspberry Pie Churro — $6.75
Elote Paleta — $6
Carbonara Garlic Mac & Cheese Featuring Nueske's Peppered Bacon — $8.50
Grilled Top Sirloin — $9
Smoked Honey-Habanero Chicken Wings — $8.50
TOTAL: $58.75
I was not paying attention to the prices of each item, and was instead focused on what I wanted to try. Since this was for a media event, I was gifted the pass. If I had paid for it myself, I might have been more strategic. Ultimately, I lost money. I have a bit more of a sweet tooth and wanted to try things like the Blueberry Buttermilk Pie from the Berry Patch — which was a 10 out 10 for me. If I had focused on the savory dishes instead, I probably would have made my pass worth it.
The savory dishes were all tasty AF. In fact, the Carbonara Garlic Mac & Cheese was probably the best thing I ate all day, so you really can't go wrong getting a pass just for the savory dishes. Just be careful of the tasting-size portions from Disney dining locations, though. My friend got the Korean Fried Chicken Sliders from Studio Catering Co., which were part of the Sip and Savor Pass. However, with the pass, you only get one slider. Two sliders is $11.49, so one would only be around $5.75. That's definitely not worth it when you can get a BBQ Beef Brisket Slider from the Cluck-a-Doodle-Moo festival booth for $9.
I would also recommend you try the most popular and expensive items earlier in the day to make your pass worth it right away. As the day goes on, some items sell out. You don't want to bank on getting a slider or the Glazed BBQ Pork Belly from LA STYLE only to find out it's not available. The Sip and Savor Pass is also a lot to eat in one day. If you and your friends are cool with sharing, you can definitely split a pass to save some money as well. If you're worried the math won't be mathing just right for you, I would say skip out on the pass and just let your stomach be your guide. Either way, you'll have a tasty time at Disneyland.