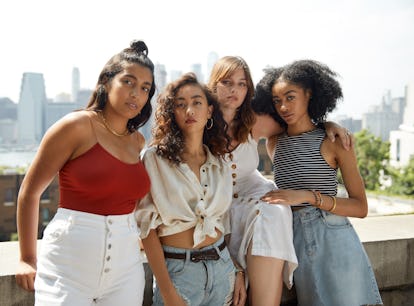 95 Cool Group Chat Names For Your Exclusive BFF Convo
Only VIPs allowed in this chat.
BROOK PIFER/Stone/Getty Images
Checking in with your besties is something you do almost daily. Whether you're sending hilarious TikToks back and forth, showing off your OOTDs, or just chatting because you're bored, your group chat is like the MVP of your squad. As MVP, you need to give your text convo one of these cool group chat names. After all, it isn't an official group chat until you've christened it with a solid group chat name.
Some of the most popular friend groups in movies and TV shows have cool group names, like The Golden Girls, the Heathers in Heathers, and the Plastics in Mean Girls. It's not just about finding a cool group chat name, either. You have to pick out the right name for your specific crew. It should be a name you're proud of and something that totally matches your chat's vibe. For instance, if you're always planning your next hang, you may want to go with a group chat name that plays on your party side. If your convo is instead filled with your daily horoscopes or memes about astrology, you may want to go with some cool group chat names that align with your birth charts. There's even some punny group chat names on this list that are cool for friends with a great sense of humor and basically have the same TikTok FYP.
Since you know your friends better than anyone else, you know just which of these 95 cool group chat names will get everyone excited. Once you have your name updated in the chat, you're ready to get back to texting non-stop.
Friendchips And Guac
You Can't Text With Us
The Chamber Of Secrets
Members Only
Olive My Crew
Gossip Girls
Our Coven
Secret Circle
The Heathers
The Plastics
On Wednesdays, We Text
Besties For The Resties
Smooth Like Butter
Spilling The Tea
Tea Time
We Make Pour Decisions
Sliding Into Our DMs
Dream Team
Taylor Swift's Squad
The Burn Book
The Stars Align
Insert Cool Name Here
My Best Teas
Ketchup With My Crew
Bae-Goals
50 Shades Of Slay
Mermaid To Chat
Dino-Mite Crew
Hakuna Moscato
TikTalking
Feline Good
Mistakes Were Made
Moon Club
Cosmically Correct
Lunar Layers
Keeping Up With The Krew
F.R.I.E.N.D.S
Sisterhood Of The Traveling Texts
The Clique
The Meme Team
My Chosen Family
Charlie's Angels
The Golden Girls
Dr. Drake and the Ramorays
Full House
Astro Circle
Dancing Queens
Pretty Little Liars
My Ride Or Dies
The A-Team
Coffee Crew
Let's Take This Offline
2 Cool 4 School
Quad Squad
The Chosen Ones
Where's The Party
The Party Don't Start 'Til We Walk In
The Weekenders
We Who Shall Not Be Named
The Fast And The Serious
Squad Ghouls
My Gouda Friends
Team Britney
Cool Name Pending...
Smells Like Team Spirit
My Lucky Charms
Power Rangers
The Powerpuff Girls
My Witches
Beach Don't Keel My Vibe
The Bold Type
The Bold And The Beautiful
Mystical Messengers
My Spirit Guides
My Main Beaches
My Best Buds
Where My Ghouls At?
Haim Doing Fine
Leave Your Foodie Pics Here
Feeling Brew-tiful
Where Have You Bean?
Wazzup
Party Party Yeah
Avengers Assemble
Guardians Of The Galaxy
Game Changers
Take A Chance On Meme
Wish You Were Beer
It's Always Happy Hour Here
Owl Always Love You
Beautiful Beaches
The Breakfast Club
You Can't Sit With Us
A Cosmic Connection
Lucille Ballers