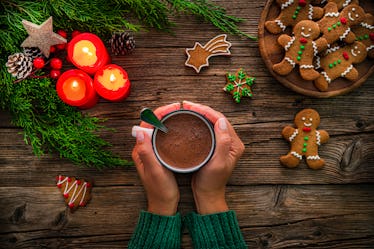 10 Christmas Morning Breakfast Ideas From TikTok For A Festive Start
Who knew cinnamon rolls could be so tree-mendous?
fcafotodigital/E+/Getty Images
Christmas is the one day of the year when everyone is actually a morning person. While the little ones run down to see what presents Santa delivered under the tree, you're probably making a beeline for the coffee pot. Whether or not you open gifts first thing, something that is definitely on the schedule on Dec. 25 is a big breakfast with your fam. If you want to make a delicious feast to kickstart your day, try some Christmas morning breakfast recipes from TikTok for savory and sweet ideas.
Foodie TikTok has so many recipe ideas for the holiday season that you can build a whole menu just by scrolling and bookmarking videos. You can grab dish ideas for all meals of the day, like an autumn harvest feast, seasonal cocktails, and festive cookies that you can serve up at all kinds of holiday gatherings. While Christmas dinner is an important meal, some might argue that Christmas breakfast is the real star of the day, because it just hits different with the cozy vibes of ripping up presents by the tree.
You can always go to the bakery to grab pastries to munch on with your cup of coffee, but these Christmas morning recipes are much more hearty and makes enough to serve the whole crew. If your family or roommates like to enjoy a big breakfast after unwrapping all your gifts, you could even whip up an entire festive meal with eggs, bacon, and holiday-themed cinnamon rolls. Whatever you're in the mood for on Christmas morning, you can find it from this list of 10 Christmas morning breakfast recipes on TikTok.
This article was originally published on