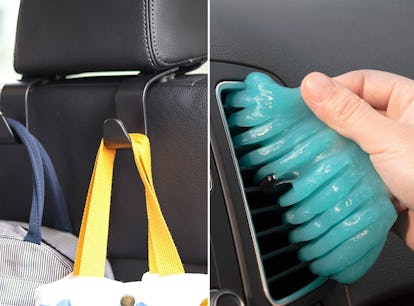 15 Easy Car Organization Hacks That'll Make The Inside Look Cleaner
You'll be ready for a road trip in no time.
Let's face it, keeping your car clean can be super difficult. Every errand run and commute to work runs the risk of you dirtying up your car with straw wrappers from your iced coffee or leftover reusable bags thrown about that you didn't use at the grocery store. While regularly detailing your car can keep it looking clean, you don't always have it in your budget to pay for that. Luckily, there are some genius car organization hacks that'll make the inside look cleaner from places like TikTok that include products you'll want to add to cart ASAP.
Even if you can't deep clean your car often, you can add some bins and a cute trash can to make the inside look brand new. You may even find that these car organization hacks make driving around and road trips more fun. With the right products, you'll have designated spots for your lip balm, reusable bags, snacks, hand sanitizer, charging cables, and anything else you keep in your vehicle. You'll be so proud of your organized car that you may want to offer to carpool your friends just so you can hear them compliment your Insta-worthy work. Depending on your current car issues, you're sure to find some car organization hacks and products from this list you'll want to follow.
We may receive a portion of sales if you purchase a product through a link in this article.