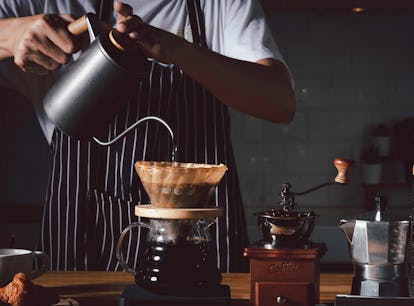 9 Black-Owned Coffee Brands Serving Up Great Brews That Do Good
It's time to switch up your morning routine.
Shutterstock
You likely have your morning coffee routine down pat, but there are so many options to explore. If you've been looking for a reason to switch-up your go-to cup, look no further than these coffee companies that will do more than just give you a boost. It's always important to support small businesses, and these Black-owned coffee companies that also give back to their communities and growers are a great place to start. Whether it be through fair farming wages, ethical sourcing practices, or investing in local communities, when you buy your beans or freshly-brewed coffee from these Black-owned coffee companies, your purchase will do more than just wake you up.
Historians are still unsure when or where the first cup of coffee was made, but one fact remains: the coffee plant originated in Africa, probably Ethiopia. According to the International Coffee Organization (ICO), as of 2020, Brazil is the top producer of coffee, but the plant's beginnings are undeniable. BLK & Bold co-founder Rod Johnson tells Elite Daily, "We have an innate connection to coffee given the plant's African origin." He cites wanting to close the "gap in how coffee has been positioned to support the communities of its consumers" as a main reason he and co-founder Pernell Cezar established their business in Des Moines, Iowa, in 2018.
The benefits of buying from small businesses are no chump change. According to 2019 data from the U.S. Small Business Association (SBA), for every $1 spent at a small business, roughly 67 cents of that money remains in the community, thanks to employee spending or purchasing goods. Of course, there are more Black-owned businesses and coffee shops than those featured here, but if you're looking to support Black-owned companies with each cup of coffee, these nine shops are a great place to start. Here's what to know about the brands' stories, missions, and commitment to coffee.
We only include products that have been independently selected by Elite Daily's editorial team. However, we may receive a portion of sales if you purchase a product through a link in this article.
As you switch up your morning routine to include one of these Black-owned coffee spots, remember to check the CDC guidelines for the most updated health rules, to make sure you're getting out there and caffeinated as safely as possible.