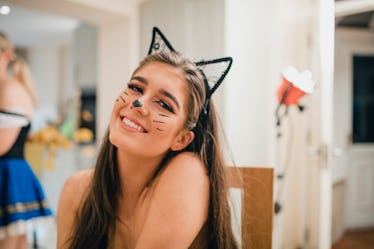 25 Captions For Black Cat Costumes That Are Purr-fectly Scary
For when you're looking good and feline better.
SolStock/E+/Getty Images
A black cat costume is easily one of Halloween's most popular disguises, and for good reason. While superstitions from the past have led to black cats being labeled omens of evil or bad fortune, today, they're just generally associated with Halloween. Whether you want to pay homage to your own furry BFF or you want an easy costume idea that you can make your own, these captions for black cat costumes will ensure you're ready to hit "post" on Instagram or TikTok as soon as you have the perfect shot of your Halloween 'fit.
If you're looking to get creative for Halloween, a cat costume is always a timeless dress-up option due to how versatile it can be. It's the perfect opportunity to show off some 'Gram-worthy black kitten-inspired makeup and hair looks, or repurpose an LBD with black ears ($8, Old Navy) for an easy but cute last-minute Halloween costume. If you're looking for a costume that's all about comfort, try rocking a black cat onesie. Meanwhile, DC Comics fans can put a fun twist on the classic black cat ensemble by taking some inspo from Halle Berry or Michelle Pfeiffer's versions of Catwoman. However you decide to interpret the idea, come Halloweekend, you'll want to have this list of captions for black cat costumes on hand for all your Halloween photo dumps and POV TikToks.
"You've got to be kitten me."
"Black cat magic."
"Purr-fectly scary."
"No scaredy cats allowed."
"It's a zombie apawcalypse."
"Happy Meowloween."
"It's always Caturday."
"Feline fine on Halloween."
"One purr-ito coming right up!"
"Living in this mewment."
"Feeling purr-ty."
"When black cats prowl, and pumpkins gleam, may luck be yours on Halloween."
"Mini panther energy."
"Cat hair, don't care."
"Keep calm and stay pawsitive."
"Ready for some treats right meow."
"Black cats fur-ever."
"You're freaking meow-t"
"The Devil Wears Paw-da vibes."
"Feline like a treat."
"I cat even with this Halloween pawty."
"Looking good, feline better."
"You say crazy cat lady like it's a bad thing."
"Twinning with my fur baby."
"On Halloween, we wear black."