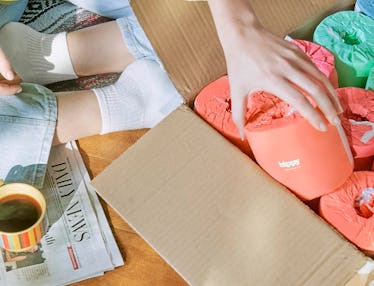 This Eco-Friendly Toilet Paper Has Been Called "The Best TP I Have Ever Used"
We only recommend products we love and that we think you will, too. We may receive a portion of sales from products purchased from this article, which was written by our Commerce team.
Bippy
I try my hardest to make my home as eco-friendly as possible. That includes silicone food storage bags, washable bamboo straws, a reliable water filter rather than plastic bottles, and a French press instead of single-use plastic coffee pods. But some items — like toilet paper — are a necessity, and reusable isn't the right option for me. That's where Bippy and its bamboo toilet paper hopes to come in. Since bamboo quickly regenerates after getting cut, its paper is a more renewable alternative to cutting down trees for TP.
FAST FACTS:
Made from pure bamboo, which quickly regenerates when cut
Carbon-neutral and biodegradable
Triple-ply and double-sided for both cleaning and drying
Hypoallergenic and soft
Ships straight to your door in plastic-free packaging
Save 15% with recurring deliveries
Why Bamboo Toilet Paper Is More Eco-Friendly
According to Environment Journal, almost 2 million trees are cut down every day to meet the world's toilet paper demand, making it one of the top causes of deforestation. A single roll of your standard toilet paper requires 1.5 pounds of tree pulp to make, but fortunately, there are other (better) options.
Bamboo is one of the fastest-growing materials on earth. It's technically classified as a type of grass, so when it's cut down, it doesn't die — instead, it quickly regenerates, so you can use the same plant over and over again to make countless rolls of toilet paper. It's also biodegradable, versatile, and removes carbon dioxide from the air.
About Bippy Bamboo Toilet Paper
Sure, Bippy's toilet paper is biodegradable and septic safe, but it's also designed to feel comfortable. It is triple-ply, lint-free, and hypoallergenic, but perhaps most interestingly, it's double-sided: One side is grippy for a thorough cleaning, while the other is smooth for maximum absorbency while drying.
Finally, each roll is wrapped in recyclable, brightly colored paper that looks nice. (Who knew toilet paper could be a decorative accent?) It's then shipped to you in plastic-free packaging. The company has also been Certified Carbon Neutral through CarbonFund.org.
If you sign up for a subscription to ensure that you're always well-stocked, you'll also get a 15% discount.
According To Customers
Toilet paper isn't usually a topic of conversation — but so far, hundreds of buyers have been eager to share their experiences with Bippy, and the vast majority of them have been positive. "Really great toilet paper of the environmentally friendly ones I've purchased. It also comes in super cute packaging that I love putting out in my bathroom," one reviewer wrote.
Another commented: "I never thought someone would ask me what kind of TP I get, but that happened. The balance of strength and softness is just right."
The Cost & How To Save
The most obvious downfall here is the cost. A one-time purchase of 24 Bippy rolls costs $38, which breaks down to approximately $1.58 each — which is undeniably more expensive than your standard TP. However, the paper itself is triple ply and durable, while the double-sized rolls contain 250 sheets each, so you'll need less of it while wiping and it'll last you longer. (According to the brand, one order will last a household of two people a whole month and a half.)
There are also a couple of ways to save on this eco-friendly toilet paper: For one, you can save 15% when you sign up for a subscription, which allows you to schedule regular deliveries in your choice of four-, six-, eight-, 10, 12, or 16-week intervals.
This article was originally published on