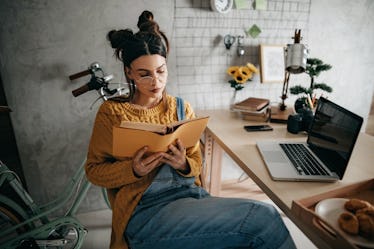 9 Best Mystery Books You Won't Be Able To Put Down During Spring Break
You'll want to keep a light on when you're reading these thrillers.
eclipse_images/E+/Getty Images
While getting away for a while is nice, you can still have a rejuvenating spring break by staying at home. All of the things you need for a relaxing pause from school or work can be found right in your neighborhood. You can set up some luxurious snacks, make some gourmet coffee, and finally get to all of the reading you've wanted to do — and not because you're anticipating a pop quiz. Check out some of the best mystery books for your spring break, and be sure to grab more than one, because you're about to blow right through them.
These books have thousands of five-star reviews that confirm you won't be able to put them down. Each one has its own unique storyline, but they all involve a mystery that must be solved, a ticking clock, and a twisty plot with clues you'll piece together along with the main character. Plus, these books all move super fast, so once you sit down, be sure you've got your snacks on hand because you won't be getting up for a while.
Reading is a relaxing pastime to pick up (or pick back up) while you're on break, especially if you're chilling on a hammock in your backyard or cozying up on your coach. Unlike the busy semester that constantly summoned your thoughts to a million subjects at once, you'll just be focusing on this one thing. If you're ready to take a deep dive into a good mystery, any of the best mystery thrillers will do the trick.
We only include products that have been independently selected by Elite Daily's editorial team. However, we may receive a portion of sales if you purchase a product through a link in this article.
This article was originally published on