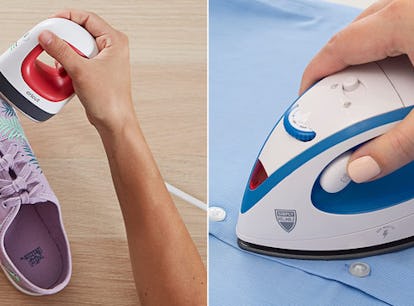 The 5 Best Mini Irons For Crafting
Petite irons & heat presses for ultimate precision.
Amazon
We may receive a portion of sales if you purchase a product through a link in this article.
If you're a crafter, you've likely used your standard household iron for your sewing, quilting, heat transfer vinyl, or sublimation projects. The best mini irons for crafting are a surprisingly affordable investment that can permanently live in your creative space, allowing you to craft with ease and precision. Just be sure that the size, heat output, and overall design are a good fit for your specific DIY projects.
What To Look For In A Mini Crafting Iron
Portability: While they may not be as powerful as a full-size option, mini irons are much easier to store and handle when you're doing detail work — plus they can double as travel irons when you're on the go. As long as it gets hot enough for your needs, smaller dimensions and a lightweight frame make a mini iron a no-brainer for a compact crafting area.
Power: An iron's power is usually listed in watts, though heat presses often advertise their power in volts. Either way, the higher the number, the hotter the soleplate and the more powerful the steam output (if there is any) — but for crafting, going too high could melt or burn your materials. The options below have an average of about 900 watts or 150 volts.
Steam: When I craft, I use my iron for heat-transfer vinyl and sublimation so I never need steam. (If you also do mostly dry-heat transfer projects, a mini heat press may be a better alternative because it's specifically designed for iron-ons and sublimation.) Those who do sewing and quilting, however, will find steam hugely helpful for tackling those creases and wrinkles.
Additional features: While the temperature often isn't disclosed, some irons have dials that allow you to choose the fabric you're working with, which adjusts the temperature accordingly. Others have pointed soleplate tips, heat-resistant resting standings, adjustable heads, and easy-to-clean ceramic plates, all of which boost precision and safety.
Shop The Best Mini Craft Irons
In a hurry? Here are the top picks for compact crafting irons.
1. The Overall Best Small Steam Craft Iron
In terms of mini options, the Oliso M2 project iron is widely considered the best steam iron for sewing and quilting. Its ergonomic design offers ample control, while its soleplate has a pointed detailer tip for cuffs, pockets, and hard-to-reach spots. With 1000 watts of dual-voltage power and a steam button, it packs a serious punch for its size — and the dial adjusts the temperature accordingly for synthetics, silk/wool, or cotton/linen. All of that said, it's still a great option for fusibles, HTV, and sublimation because of the easy-to-clean diamond-coated soleplate and the included SoleMate (a silicone resting mat and a cord organizer in one). Its pivot cord also makes it a great option for both right- and left-handed users. Choose from four bright color options.
One Reviewer Wrote: "This little iron is amazing. I use it only for my crafting and sewing needs. Absolutely love it! Heats well and perfect size."
Dimensions: 10 x 5 x 6.5 inches | Weight: 2.27 pounds | Power: 1000 watts | Steam: Yes
2. The Best Budget Mini Steam Iron
If you're just looking for a basic, affordable, mini steam iron that'll work for sewing and heat transfer vinyl, the Sunbeam Hot-2-Trot travel iron is the way to go. Many reviewers take it when traveling thanks to its dual-voltage system and lightweight, compact frame. However, it's also a favorite for at-home crafting due to its ergonomic handle, powerful shot-steam button, and fabric-select dial that lets you choose between linen, cotton, silk, wool, and more. Finally, it costs less than $20 in either color, which explains its 4.5 overall rating after more than 11,000 reviews.
One Reviewer Wrote: "I can't say enough nice things about this little guy! My husband and I don't have a lot of space for storage, so when I found this iron I knew it was the right choice. It heats up nicely and works just as well for crafts as it does for clothes. I would highly recommend. Especially for the price!"
Dimensions: 3.6 x 7.9 x 4 inches | Weight: 1.2 pounds | Power: 800 watts | Steam: Yes
3. This Handheld Iron For Detail Work
For tiny projects that require extreme precision, the lightweight Dritz Petite Press handheld iron is a crafter's best friend. Reviewers love it for applique, HTV projects on 3-D items, and making doll clothes. The ergonomic handle fits in your palm while the pointed head adjusts into four different positions so you can get into any nook or cranny. Don't be fooled by its size; this thing heats up in minutes, retains its temperature, and offers four different settings on its digital control pad. It also has a flip-down wire stand so you can place the iron directly on the table without damaging anything.
One Reviewer Wrote: "This little iron is perfect for pressing small sewing projects like doll clothes or quilt pieces. The handle is easy to hold and protects hands and fingers from being burned by the small hot part of the iron. The iron head can be adjusted to different angles to aid in pressing. Four heat settings allow for a variety of fabrics to be pressed."
Dimensions: 6.4 x 3.15 x 13.25 inches | Weight: 0.7 pounds | Power: 230 volts | Steam: No
4. The Best Mini Heat Press
Cricut is known for its thoughtfully designed crafting tools, and the Cricut EasyPress Mini is no exception. Its upright design features a ceramic-coated heat plate with a pointed tip on the bottom, and a comfortable, stay-cool handle on the top. Three heat settings take the guesswork out of crafting because they're specifically tailored to three different project types: Everyday iron-on, Infusible Ink, and sublimation. (Despite the dry heat and fusible-centric design, however, you can still use it for sewing and quilting.) Your order also comes with an insulated safety base for protection and storage. It's expensive for its size, but judging by the near-perfect 4.8-star overall rating and best-selling status, it's worth the splurge.
One Reviewer Wrote: "I've been considering getting the mini press for quite some time and finally decided to try it and I can't believe I waited this long to. Not only is it great for small HTV projects or anything rounded you need press/iron it's also perfect for pressing open my small quilt seams! Such a great little product."
Dimensions: 3.62 x 6.3 x 7.8 inches | Weight: 1.5 pounds | Power: 120 volts | Steam: No
5. The Best Budget Mini Heat Press
For a few dollars less than the Cricut version, there's this small heat press, which one reviewer says "works great for a lower cost than the Cricut brand." It has three temperature settings (284, 320, and 356 degrees Fahrenheit). Plus, its fast-heating plate is slightly larger than the competition for both small- and medium-sized projects. Choose from four colors, all of which come with an insulated resting base and a 10-minute automatic shut-off feature for safety.
One Reviewer Wrote: "This machine is the definition of getting your bang for your buck. It was so cheap and it works better than my iron 100%. I craft a lot and make shirts and custom items. This little machine is amazing and also small and travel size."
Dimensions: 2.56 x 4.37 x 4.13 inches | Weight: 1.3 pounds | Power: 110 | Steam: No