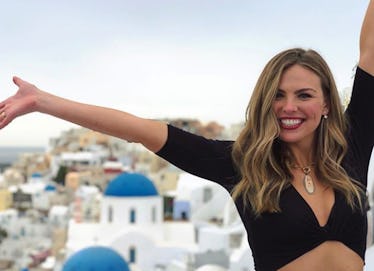 10 Honeymoon Destinations Featured On The Bachelorette To Give Your Final Rose To
Take your honeymoon Fantasy Suite-style.
Instagram/Hannah Brown
The Bachelorette production has finally escaped its lockdown bubble and is back to giving us tons of ideas for honeymoon destinations inspired by the show. After a few seasons of isolated filming, The Bachelorette is returning to the format it's known for — a whirlwind of complicated courting as contestants try on potential fiancés in the most romantic places around the globe. And, of course, a drop of wanderlust. In honor of Gabby and Rachel's exciting new season, take inspiration from past seasons' Bachelorette destinations for your honeymoon or romantic getaway. You can make a "fantasy suite" your reality, too.
This season, which airs through the end of the summer, is a breath of fresh air in more ways than one. Besides not one, but two bachelorettes looking for love, there will also be more travel locations than are usually featured on the show. After Rachel and Gabby get to know their guys in the Bachelor mansion, they'll depart to take their new sparks on a world tour via cruise ship to various port cities throughout the season, as revealed by former Bachelor lead Nick Viall. All rumors and season promos point to dates in Paris, Belgium, and Amsterdam, but we'll have to tune in to see everywhere they visit. Plus, this upcoming season will definitely feed your wanderlust. Since there are two bachelorettes, we'll get to see double the hometown dates. Yes, that means eight different US cities will be featured towards to end of the season, as long as everything goes to plan... You never know with this show.
People say you don't really know someone until you travel with them, and that totally applies to finding your life partner. Visiting a new place is a chance to learn about different cultures, have a blast making memories, and find yourself. Sharing that with your SO is a special experience and can bring you two so much closer. Booking your trip in a beautiful, romantic location is definitely the first step. If you're looking to plan a trip with your one true love and forever travel partner, check out these top ten most romantic honeymoon destinations inspired by filming locations from The Bachelorette.