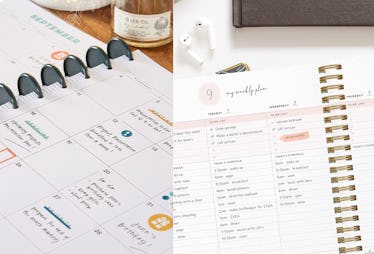 The 5 Best Erin Condren Alternatives
Fan favorites for as little as $13.
Amazon
We may receive a portion of sales if you purchase a product through a link in this article.
Erin Condren planners have plenty of great features to help you organize your life, which explains their popularity — but many would rather not spend $60 for them. In that case, the best Erin Condren alternatives give you a lot of the same features as the cult-favorite LifePlanner, but for as little as $13. First, however, you'll need to understand what makes it so special, so you can find those same features elsewhere.
What To Look For In An Erin Condren LifePlanner Alternative
Customization: The Erin Condren LifePlanner is offered in loads of different designs. In some cases, the covers are interchangeable and you can even choose your coil color, which is the number one way this brand sets itself apart from the competition. Full disclosure: You likely won't find this level of personalization elsewhere, but that doesn't mean you can't find a design you like.
Quality: Erin Condren planners use 80-pound text-weight paper, so it's thick, smooth, and bleed-resistant when it comes to most types of writing utensils. The covers are also high-quality, often coated with a waterproof laminate that's made to last the year. As a result, any alternative you choose should prioritize high-quality, durable materials, too.
Structure: Regardless of the type, fans love Erin Condren planners because the formatting offers guidance while still allowing room for creativity and flexibility. Goal pages help you work towards your aspirations, while monthly, weekly, or daily spreads help you manage your time. There are also ample blank note pages that you can fill however you see fit. Though most Erin Condren planners are dated, I've included a handful of undated options below, so you can jump in at any time.
Extras: While they differ from planner to planner, many Erin Condren purchases come with fun extras, like dividers, stickers, built-in folders, contacts pages, and snap-in rulers. These not only help you stay organized, but also make your experience much more fun and personalized.
Shop The Best Planners Like Erin Condren
In a hurry? Here are the top picks for Erin Condren alternatives.
1. The Best Dated Erin Condren Alternative
Where it measures up: The Emily Ley Simplified Planner is a weekly and monthly planner for 2023, and even though it costs significantly less, inside, it's pretty darn similar to Erin Condren's LifePlanner. The paper is thick and bleed-resistant, the cover is flexible and durable, and the colorful tabs divide the 12-month spread so you can easily find your place. There are also blank lined pages and prompts for goal-setting.
Where it falls short: While it comes in three cover designs, the personalization options are lacking compared to the LifePlanner. You also don't get any stickers or extras.
One reviewer wrote: "This planner is great. The price is unbeatable and there is ample room to write down your daily plans or chores. I typically spend $40+ on planners each year and decided to just give this one a try. Did not really expect it to work - however, I was wrong. I will never, ever spend that kind of money again."
Size: 11.26 by 10.2 inches | Dated: yes | Other available designs: Climbing Rose, Happy Stripe, Navy
2. The Best Undated Erin Condren Alternative
Where it measures up: Thanks to its gorgeous, shimmery cover, it's hard to ignore the Bright Day La Lune Pink planner. Fortunately, the inside is just as stunning. The weekly and monthly spreads have space for to-do lists and notes as well as important schedule reminders, and there are pages for goals, contacts, quotes, and notes, too. Unlike most Erin Condren planners, however, this one is fully undated, so you can start it no matter what time of year it is.
Where it falls short: At 100 gsm, the paper is thinner than Erin Condren. It's also smaller than most other planners on this list.
One reviewer wrote: "I love planning my life, this planner is perfect for that because it is undated so I am able to use it no matter the days. It has a monthly spread and weekly so you are able to jot down your daily to dos. It is not big and not too small, right size to still put into large purse and carry with you if you need it."
Size: 7.25 by 8.75 inches | Dated: no | Other available designs: Abstract Art, Belle Fleur
3. A Fan-Favorite Dated Planner
Where it measures up: The Blue Sky 2023 weekly and monthly planner has an overall 4.8-star rating from more than 6,000 reviewers. Why? Since the cover has a clear front sleeve, you can create your own design with pictures, lists, and notes. The monthly and weekly spreads are structured enough to keep your organized, but still allow you to schedule your life your way. You also get thick, high-quality paper, durable tabs, contacts pages, a built-in folder, and empty notes pages, much like Erin Condren.
Where it falls short: According to reviewers, it's not the most durable. The 2023 edition also doesn't come with stickers, unlike with previous years.
One reviewer wrote: "I have used Blue Sky planners for several years, try others and keep coming back. It fits my bag and desk and has room to write anything I need. I love the weight of the planner, solid without being too heavy in my bag. The paper takes all kinds of pens well. When I have looked back at previous years' planners I can still read everything. Love the pocket on the front cover."
Size: 8.5 by 11 inches | Dated: yes | Other available designs: Laila, Fly By, Joselyn, Baccara Dark, Enterprise
4. This Super-Customizable, Undated Planner
Where it measures up: If you love Erin Condren for its gorgeous, eye-catching covers, customizable spreads, and fun stickers, The Happy Planner is the way to go. While it's undated, it still offers the ability to organize your life by day, week, or month. It also comes with dividers, sticker sheets, and blank pages (both lined and dot-grid) — plus the disc-bound system allows you to customize your pages as you see fit, or add more down the line. Finally, the matte plastic cover comes in several beautiful designs.
Where it falls short: There are no solid color options.
One reviewer wrote: "I use the Erin Condren Life Planner as my main planner but was looking for a supplement for my checklists and notes. I had heard good things about the Happy Planner brand and decided to give this one a try. The disc bound spine is what makes the Happy Planner unique, it makes it so you can add, subtract, or re-organize the pages. This makes it truly versatile and I really appreciate it for that reason."
Size: 8.5 by 11 inches | Dated: no | Other available designs: Cabana Stripe, Blush Waves, Bold & Brave, Simple Florals, Big Ideas, Modern Mosiac, Neutral Farmhouse, Vintage Florals, Watercolor Florals
5. The Best Goal-Setting Planner
Where it measures up: If the goal-setting spreads are your favorite part of the LifePlanner, The Clever Fox Planner Pro aims to boost your productivity, improve your time management, and help you reach your aspirations. (If it doesn't, the brand offers a 100% satisfaction guarantee.) It's more structured than most, but with weekly and monthly prompts for goals, priorities, journaling, to-do lists, wins, improvements, and gratitude, reviewers have called it "the most efficient planner" they've "ever used." It also has thick, sturdy paper, extras like stickers and dot-grid note pages, and a durable vegan leather cover in your choice of over 20 colors.
Where it falls short: It's not the best option for people who want a lot of flexibility.
One reviewer wrote: "Bought this as an alternative to an Erin Condren planner and so glad I did. This planner is super durable and very cute. Has different sections for short- and long-term planning and allows you to keep track of your goals. Monthly reviews and quarterly goal check-ins are great at keeping me focused. Added bonus is the work-life balance portions included."
Size: 8.5 by 11 inches | Dated: no | Other available designs: 22 colors