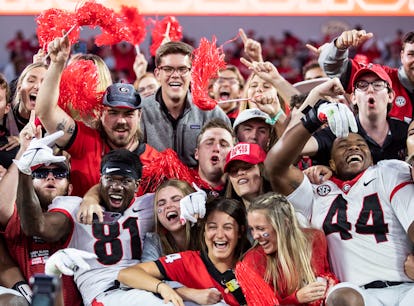 Book These Airbnbs For College Football Rivalry Weekend This Thanksgiving
Enjoy your downtime right near the stadium.
James Gilbert/Getty Images Sport/Getty Images
It's November, which means that the football season is quickly winding down. Luckily, there's still the big rivalry weekend to look forward to over Thanksgiving, and many stadiums have re-opened their doors to fans to celebrate. If you're ready to cheer on your favorite team in person, check out some of the best Airbnbs to stay at for college football rivalry weekend during Thanksgiving 2021.
Some of college's biggest rivalries are playing over the Thanksgiving weekend, and not all of them are located in a city. There are some great college towns to explore before and after you hit the stadium, and they're likely places you may not have visited before. Take quaint Ann Arbor, Michigan, for example, where the University of Michigan will face off against rival Ohio State on Nov. 27. Located just outside of Detroit, this town is known for its breweries and lively Main Street area, and it's easily walkable. That said, if you're craving some time in a big city, there are games going on in Atlanta and Minneapolis, too.
Just remember, the CDC still recommends delaying domestic travel until full vaccinated, and you should make sure to follow all local health guidelines. If you're all ready to go, be sure to check out these amazing Airbnb rentals, and get your pom-poms ready for college football rivalry weekend for Thanksgiving 2021.
The CDC recommends traveling only after you're fully vaccinated and your vaccine has become fully effective. If you're not fully vaccinated and must travel, check the CDC guidelines before you book. Check your destination's vaccination and testing requirementsbefore you depart.