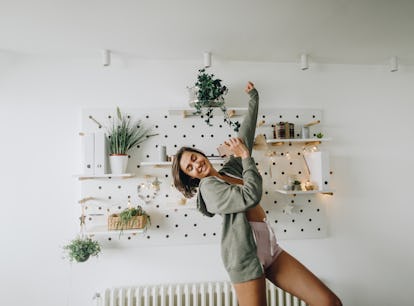 Amazon Prime Day Deals For Home Organization Products Are Up To 55% Off
Control the chaos with these space-saving hacks.
Whether you're home from school for the summer, or you're still in WFH mode, I bet your online shopping habits have only increased, which means every available space is covered with items that don't belong. Clothes on The Chair™ are probably just the start of the clutter in your home. Luckily, Amazon Prime Day 2022 is here through Oct. 12, so there are tons of great markdowns on home organization products. Even though this means you'll be doing a bit more online shopping, it'll pay off in the long run, when your space goes from a sty to aesthetic.
It can be hard to keep any living space — especially your bedroom, bathroom, and kitchen — neat, tidy, and good enough to post content from on your Instagram Stories, so finding a place where everything belongs is essential to controlling the chaos. The key is to find innovative storage tools to declutter every room in your home and simplify your space. And these 14 October Amazon Prime Day sale deals on home organization products can help you get there:
We may receive a portion of sales if you purchase a product through a link in this article.
Amazon Prime Day 2022 lasts through Wednesday, Oct. 12, so shop the home organization product deals while you can.
This article was originally published on