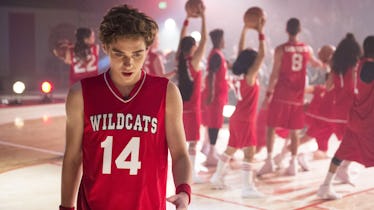 HSMTMTS Is Back, So Here Are 33 Ricky Quotes You Can Use To Break Free On IG
Disney+
Ricky pulled a Troy Bolton in High School Musical: The Musical: The Series by surprising everyone and auditioning for their school's production of High School Musical — and that was just the beginning. Throughout Season 1, Ricky really stepped out of his comfort zone. You could say he was "breaking free," and it's time for you to do the same by using some of Ricky quotes from the High School Musical series in your next Instagram post.
Joshua Bassett's character may have had a hard time telling Nini exactly how he felt about her, but you don't need to struggle at all when it comes to expressing yourself on Insta. Instead of trying to come up with your own words, just use a Ricky quote from HSMTMTS that fits whatever pic you're thinking of sharing. If you've got a sweet selfie of you with your partner, use a line from Ricky's emotional speech to Nini in the Season 1 finale. That part always has you swooning, so why not make your own Insta post swoon-worthy? You could also use one of Ricky's sweet quotes with Gina or LOL-worthy lines with Big Red for any pic of you with your BFF.
There are so many options to choose from on this list of 33 Ricky quotes from the High School Musical series, so "get'cha head in the game" and pick the one you know will work.
"It was my idea to take a pause."
"This is a nightmare."
"That was the old me."
"I also believed in you... in us."
"Hey, I take this seriously."
"We're back."
"I thought there was a little trust left between us."
"The next time I spill my guts out to you in a voicemail, do me a favor and keep it to yourself."
"I thought we sort of, like, got each other."
"My world's been a little upside down lately."
"This feels different already."
"It's really hard to talk about it, you know? Not with you, but anyone else."
"You're not that scary."
"OK people, let's do this!"
"I kind of need to thank you actually."
"I still don't know all the theater terms."
"It's a little hard to smile when we don't even know the plan."
"What team?"
"Yeah, thanks. I really don't need advice from a buddy right now."
"The whole show's unstoppable."
"I never thought about singing, that's for sure... until you. Now I don't want to stop ever."
"You're, like, one-in-a-million talented."
"OK, but you're, like, good at everything else, so I don't want to hear it."
"My parents took me to Disneyland once, and I met a very talented Minnie Mouse."
"I love you. I've loved you since the first time you picked up your ukulele and you wrote a song about clouds."
"Acting, dancing, throwing drinks in people's faces."
"I don't hate musicals. I just think it's weird when people, like, burst into song in the middle of the street."
"It's about Zac Efron dancing with a basketball."
"That night in your room when you told me you loved me, I meant to say it. I meant to say it! And I've kicked myself every day since then, because I didn't say it. But I do. I love you."
"I never outgrew you."
"Friend of the Year over here. Give me a ribbon."
"He's bringing the mints, I'm bringing the moves."
"I don't really know what happens tomorrow, or in two minutes when we walk out that door. All I know is I want this feeling to keep going."