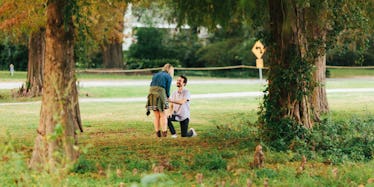 I Never Want To Get Engaged, Thanks To Wedding Proposal Pics On Social Media
B. Harvey
I don't see myself wearing a ring when I get married, and it's not because I think I'm going to die alone. It's not even because I look at my stubby fingers with un-manicured nails and can't ever fathom wearing a diamond. It's because of social media.
I'm at the age range (two years out of college) where I see Facebook posts of gorgeous engagements every week. I can't get away from it. I don't even follow Instagram accounts like How He Asked, yet I still see engagement photos everywhere I turn.
Though I'm nowhere near the point of considering marriage, I can't avoid thinking about engagements when they're all over my Instagram and Facebook. Every day, I see posed snapshots of beaming women with manicured hands, sparkly diamonds smugly perched on each of their ring fingers. At this point, diamonds just bore me.
The most common story I see on social media goes like this: The guy plans a "couples photo shoot" for his SO, and then pops the question during the photo shoot. The newly-engaged woman acts like she's all surprised in her social media posts about it.
First of all, why should a guy have to put down (on average) almost $5,000 for a ring just to ask for commitment from the love of his life? A ring is basically a price tag on something you simply can't -- and shouldn't have to -- buy. That money is best spent elsewhere. I'd rather he save that cash for a home, the wedding or a vacation.
Also, I don't buy the whole surprise element. Unless this couple does photo shoots together every few months, isn't having a photographer present pretty telling something big is about to happen? If my man planned a photoshoot after we'd been dating for a few years, I think I would know what's up.
A ring is already so expensive. Now the guy has to hire a photographer, too? Yikes.
Before Instagram and Facebook, it was common (and still is) to place a shout out in a local newspaper about your engagement, but that's it. Now, there's a social media standard. So, besides the plans theses guys need to make, the couple has to announce the engagement "the right way" on social media. The growing popularity of these over-the-top engagements puts so much pressure on the couple.
I don't see myself being surprised in a gorgeous location, my man taking a knee and pulling out a velvet box while a photographer who happened to be hiding behind a tree snaps photos of this beautiful, carefully orchestrated moment for Instagram. What do engagements mean when they're just for show?
What if my future fiancé doesn't do an Insta-worthy proposal that goes viral? Will I feel embarrassed to post photos if the ring isn't all that impressive?
Look, I'm not engagement-shaming the couples who want this type of proposal. Pressure aside, it's probably pretty fun for a dude who's excited to blow his future bride's mind and plan an epic proposal she'll love. And, of course, it's probably fun for the women who get to experience magical proposals.
But to me, it just looks like an elaborate, materialistic transaction.
I feel bad for SOs who feel so much pressure to be creative. The classic proposal arrangements just aren't good enough anymore. Ring in the champagne glass? Too cliche. Even the ring tied around your dog's collar is getting old. Not every man has the financial means to do something grandiose. And I don't want that special moment of deciding to get married to be curated by Pinterest.
I know exactly what kind of proposal I want. My favorite movie wedding proposal of all time is John Corbett popping the question to Nia Vardalos in "My Big Fat Greek Wedding." They were just lying in bed alone. No photos. No grand event. A special moment doesn't need to be expensive.
When I'm at that stage in life, I'm not looking forward to getting engaged. I'm not even looking forward to having a wedding. When I find the right person, I'm mostly looking forward to spending my life with him -- regardless of how many likes I get on a photo of that moment.