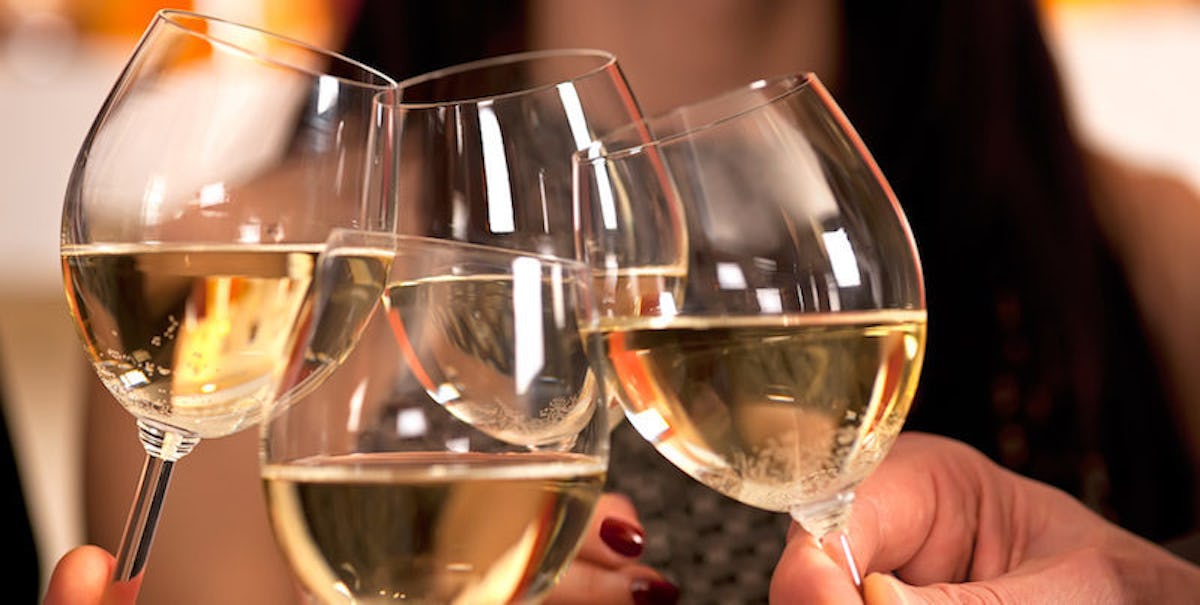 4 Reasons Wine Is The Only Type Of Alcohol You Should Drink In Your 20s
RES/Shutterstock
Being in our 20s is one of the best times of our lives. We can work, travel and still party, but our bodies definitely don't process those tequila shots like they used to.
If I had to pick one type of alcohol to drink during my 20s (and for the rest of my life), I would hands down pick wine.
Not only does wine taste great, but there are also added health benefits to drinking it. (That's definitely something we all need to balance out the late-night pizza we consume.) There is a wine for just about every occasion, but the beauty of wine is, you don't really need a true celebration to drink it.
Your 20s is a great time to switch from hard liquor or beer to wine, and here are the reasons why:
1. It's the classy option.
Taking shots and shot-gunning beers are definitely fun ways to drink, but the days of getting black-out drunk are behind you. Luckily, that doesn't mean your drinking has to stop completely. The simple solution is to drink more wine.
Having a glass of wine and knowing what you're drinking shows you're a mature 20-something, not just someone who loves to get drunk (even if you still are that person). Going to happy hour or just out to drinks with friends is a great time to have a glass of wine. You won't have a killer hangover in the morning, and you'll be thanking yourself for that.
2. There are tons of health benefits.
In our 20s, we're still sort of navigating our way into the real world, and our eating habits may not be the best. Our metabolism is also slowing down, so we really shouldn't eat like we did in college, even though we probably still do.
One thing that's amazing about wine is that while drinking it, you actually are benefiting your body. Red wine especially is loaded with health benefits.
According to Medical Daily, the benefits of drinking red wine include memory protection against Alzheimer's, improved physical performance, a boost of antioxidants and a lower risk of heart disease and stroke. If having one glass of red wine a day can do all of that, I think that's a great reason to only drink wine in your 20s.
3. Wine pairs with everything we eat.
There are many different types of wine. They all taste different, which means they all can be paired with a different meal or snack. When out for dinner or drinks, you should know what type of wine you're ordering. A simple trick is that red wine typically goes best with red meat, and white wine or rosé go best with chicken or seafood.
Food pairing with wine is important at a fine restaurant or at a dinner party, though most of us tend to drink the wine we want with whatever food we're craving. A Millennial favorite seems to be rosé, and the cool thing about rosé is, it goes with nearly everything (even pizza).
In your 20s, you should definitely learn how to order wine, whether you're out on a date, a business dinner or simply out with friends. All of these options can make for some tough decisions, but if you know the basics, you'll look like a wine master to the people you're out with.
4. Wine introduces you to new cultures.
In our 20s, we don't all have the chance to travel the world. Though some of us are lucky enough to travel and get firsthand experiences with other cultures, some of us are already in the 9-to-5 grind.
Attending wine tastings or visiting a vineyard is not only an excuse to day drink, but it's also an educational experience to learn about the history and culture of wine. There are also monthly wine subscriptions that will send you different types of wine, as well as in-depth information about the wine. This is a great way to learn about wine from around the world, without actually having to go around the world.
Wine is the holy grail of alcohol options, and it should definitely be every 20-somethings go-to drink.