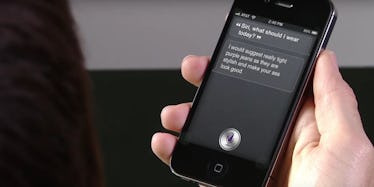 What 10 People Think Siri Looks Like As A Person
Want to feel old? Siri, our beloved smartphone genius, occasional bitch, and reluctant ally, officially turned five on October 4, 2016.
Personally, I have something of a love/hate relationship with this lucrative form of humanized technology, as she rarely interprets my questions correctly and often gets irritated when I joke with her.
Obviously, to me, Siri is a woman, as I've yet to switch her voice over to something more comical and less patronizing. Though she and I aren't very fond of each other, I do have a detailed description of what I believe she'd look like.
Of course, internet smart asses will remind me that if Siri were a person, she'd be Siri's voice actor, Susan Bennett. But I think Siri is reminiscent of Judi Dench in her 50s, dressed similarly to "M" in the James Bond franchise. She's sophisticated and bookish, but also kind of boring.
I don't see my Siri doing much other than having the occasional glass of red wine while stationed comfortably inside her personal library in front of a very large computer center, where she researches which restaurants are best in your area.
I don't see my Siri doing much other than having the occasional glass of red wine.
My Siri favors muted colors, like browns, greys and beige, and dresses primarily in Hillary Clinton pantsuits, despite never really entertaining guests (aside from the occasional dinner party with like-minded academics, who challenge each other incessantly).
Since no one Siri is alike, I wanted to see how others perceive Siri as an actual person.
Here are 10 creative individuals' takes on what Siri actually looks like to them:
1. A sophisticated British man who doesn't wear socks:
I changed my Siri to a British male accent. I mean, hello? Who doesn't want to talk to a British guy? Any time I use Siri when someone is with me, they get a kick out of my British male Siri. Then, of course, they ask how to change theirs. I think my Siri is a tall, dark and handsome British man. He's probably about 40 years old — a business guy. He's taller, walks to work with his cup of tea, carries a nice leather bag, wears a well-fitted suit with a cotton pocket square and rocks loafers with no socks.
— Lisa, 29
2. A submissive love interest:
I visualize Siri as a perfectly proportioned woman with auburn or black hair and about 5 foot 2 inches tall. She is sexy, saucy and can be extremely insulting and sarcastic. But she's also very submissive and listens to what I say. Basically, she's the type of woman I'm married to and have been attracted to for a very long time.
— Robert, 55
3. Kate Beckinsale in "Underworld" with Bluetooth, basically:
Clad in a perfectly tailored, black pantsuit, Siri's outfit is professional, yet comfortable for the 24/7 work week. She has a sharp bob haircut, colored a glossy black, with blunt bangs for quick styling. Her electronic devices are always in tow. Her Bluetooth device is permanently planted in her right ear, which creates the occasional misheard question, resulting in the asker's frustration. When this happens, Siri smiles behind her hand, enjoying the short respite of peace and quiet from the constant questions.
— Lauren, 32
4. A koala?
If Siri was a person, I think it would be a genderless koala because I'm all about breaking stereotypes. Why does Siri have to be a person? Besides, Siri is always sleeping like a lazy koala until you finally talk to it, and it decides to wake up.
— Nahir, 21
5. A drunk Mary Poppins:
I envision Siri being Helen Mirren wearing Mary Poppins' attire, always with a bottle of scotch because, you know, why not have a little irreverence with your answers?
— David, 33
6. An exotic woman in see-through attire:
Siri is foreign, possibly Indian, and has long, black, straight hair. She wears a veil, which drapes down on either side of her head, and an exotic, gauzy dress. Her complexion is on the darker side, her eyes black and bright with intelligence. She is thin, smiling and pretty.
— Cynthia, 73
7. A mean librarian who grows on you:
If Siri was a person, she'd have that librarian type of look: conservative, sexy glasses and just enough good looks to peak interest. She has a deep voice, so I don't picture her being super skinny or athletic — just kind of an average brunette, with very little makeup and kind of looking like a smart ass. She has a slight look of desperation, like she wants you to come up and ask her a question. But when you do, she gets totally rude and acts like you're bothering her. And just out of complete idiocy, you decide to keep probing. After a while, though, she starts to grow on you. And then, you realize this girl is super smart. She knows all the best restaurants in town, where to get a good massage, she has a good eye for useful information and she's really good with directions.
— Ramon, 30
8. A beautiful genius in her mid-30s:
When Siri proudly announces I've rolled into yet another Whole Foods or Nordstrom Rack parking lot, I high-five Olivia Munn. I see her as a straight-laced, genius, conservative, 33-year-old chick. She wears only black, grey and white, with an occasional splash of royal blue when she's feeling festive.
— Megan, 30
9. A video game character:
I would assume she looks something like Cortana from 'Halo.' And by that, I mean, I'd hope.
— Tyler, 27
10. A smarter, bitchier Regina George:
Siri is a complete bitch. Her answers always seem condescending. I don't know why, but I picture her looking like Regina George.
— Sarah, 26