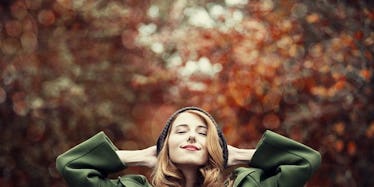 What Does Your Favorite Fall Activity Say About You?
Masson/Shuttershock
It's time to wrap ourselves in those cute knitted sweaters and scarves and head toward fall. There's actually a lot to anticipate with the changing season. We all have our own favorite things to do during fall that we can't quite do any other time of the year.
As much as we're going to miss soaking up that vitamin D months on end, we find our own silver lining in our go-to fall activities. Whether these activities are solo or group oriented, they're just what we need to accompany our beanies and warm beverages. Of course, everyone has different aspects of fall that aren't necessarily basic, and those activities say a little something about the type of person they are.
1. DIY Arts And Crafts Projects
You're a soul whose creativity thrives with each new season. Mother Nature is altering the scenery around you for fall, so you feel it's only fitting to jump onboard and spruce up your apartment. Besides, doesn't your mom still have the picture frame you made in third grade on her nightstand? You're a natural, so get your DIY on.
2. Netflix And Chill On Repeat
You're either reaping the benefits of finally having an excuse to stay inside, or no longer have to make one. You make good use of those homebody hours because you're one who values your "me time." Whether you're starting a new show or hopping on the bandwagon, you're trying to stay in the loop on all of the great flicks.
3. Long Hikes In New Places
Between the crunching of the leaves under your feet and breathing in the crisp, refreshing air, you eat it all up. Who said going on hikes couldn't be a year-round affair? Your spontaneous, adventurous self doesn't let any season keep you from the trails. In fact, you count on the change for exquisite scenery.
4. Mobile Ordering A PSL On The Regular
So, you patiently waited for the Pumpkin Spice Latte all year long, but you'll mobile order it because there's only so much time you can wait. You're a busy gal, OK? You might even go at the same time and to the same place each morning before work so you can get familiar with the staff and they'll make your drink absolutely perfect. You're prepared AF, know exactly what you want in life, and never fail to sip confidently.
5. Early Christmas Shopping
As much as you want to soak in the season at hand, you know exactly what holidays are creeping up around the corner. The planner in you cannot pass up the opportunity to get things done early on. There's nothing wrong with Santa making his rounds early, am I right?
6. Going To A Haunted House
Can anyone say thrill-seeker? You're no stranger to finding some kind of excitement to be had in any season. A couple of harmless screams does the body good and gets the adrenaline pumping.
7. Exploring The Pumpkin Patch More Than Once
Clearly, these huge orange items growing from the ground are just so entrancing, you have to hit up the pumpkin patch more than once a season. You're a kid at heart, and these trips to the patch never fail to remind you of when you were young and couldn't make up your mind picking out the perfect pumpkin (because it's serious business).
8. Out-Baking Betty Crocker
There's something about smelling baked goods in the oven during fall that instantly puts you in a great mood. You thrive on the mixture of smells and the aroma is a literal representation of your efforts. You might say fall is an excuse to explore different recipes, but secretly, you'd do it all of the time if you could. The social butterfly in you lives for cocktail gatherings and dinner parties, and you're the best host of them all.
Dabble in your favorite fall activities this year. It makes you who you are, and while fall may be just one season, we give it uncountable meaning.